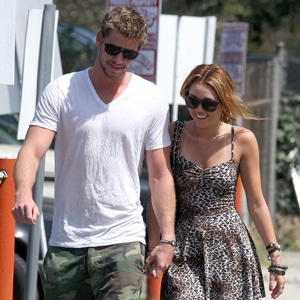 Matt Symons, PacificCoastNews.com
It seems their breakup last fall wasn't actually The Last Song for Miley Cyrus and Liam Hemsworth. 
The costars-turned-lovers are back on, and the hunky Hemsworth and Cyrus are even planning an overseas trip to his homeland of Australia!
Could this possibly be true?
That's what we're told—so here's to hoping for some Hemsworth beach photos!
A Liam source tells us that Hemsworth will be accompanying his renewed ladylove to Australia, where she will be stopping on her Gypsy Heart tour June 21.
Already making future travel plans, eh?
Jeez. Certainly appears these two are back on.
"They've been hanging out a lot," says a Liam pal. "They've been trying to do it away from the cameras."
And up until Miley hinted at a reconciliation on Australian radio station Sydney's 2Day Thursday, telling them, "I love Australian boys obviously," we too, had no idea this was coming.
But will the reconciliation last? A Liam insider says that the two are "taking it slow and just enjoying each other's company."
Perhaps Miley needed a rebound after news broke that her fling (and So Undercover costar) Josh Bowman is now dating Doug Reinhardt's ex, actress Cassie Scerbo?
Regardless, way to go, Miley! We totally think Hemsworth is an upgrade from Bowman, even if he is recycled goods!
—Additionalreporting by Ashley Fultz and Sheena  Rao