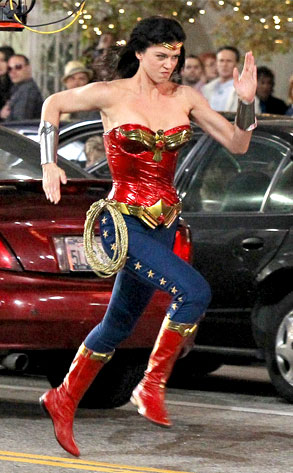 DS/Ruano/Flynet
If Adrianne Palicki used the lasso of truth on us, we'd have to admit that the first photo of her in the Wonder Woman costume left a lot to be desired. It just wasn't what we had in mind for our new TV superhero.
Now we have new pics and video and this time Palicki's not just standing there posing. Oh, no. She's in full Wonder Woman mode! Filming on the dark and mean streets of Hollywood last night, our hero is chasing...something. Or she's running from something. Either way, she's springing into action while stuffed into her Wonder Woman outfit.
And speaking of that red-and-blue ensemble, we've spotted changes since the first photo was released...