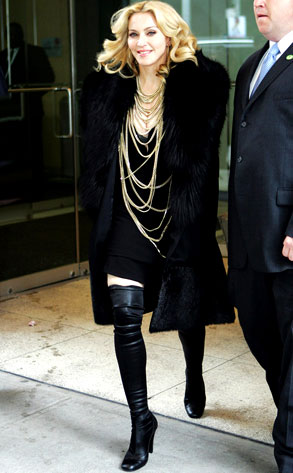 Daniel/INFDaily.com
Looks like Madonna's Sticky and Sweet tour is gonna come with a side of French dressing.
Continuing her penchant for partnering with haute couturiers for her stage shows—Jean-Paul Gaultier provided the wardrobe for 1990's Blonde Ambition tour, Dolce & Gabbana took the reins for 1993's Girlie Show—the "Vogue" singer has teamed up with venerable French fashion house Givenchy to provide at least two costumes on her upcoming world trek.
One of the outfits will be donned during Madonna's opening number, a coat dress in black stretch satin, keeping in line with the fashion house's dark and gothic bent.
The second of the Givenchy-provided outfits, a Gypsy-inspired long cape worn over a black dress embellished with colored ribbons, will make its debut during the concert's third act.
As it is, the deal has likely been in the works for some time, with Madonna making the promotional rounds in Givenchy frocks as early as last spring (see left).
It's unclear if other fashion houses will be getting in on the Madonna-outfitting act, though it's likely, with Yves Saint Laurent and Stella McCartney among the names being bandied about for additional tours of wardrobe duty.
The Sticky and Sweet world tour kicks off in Cardiff Aug. 23.