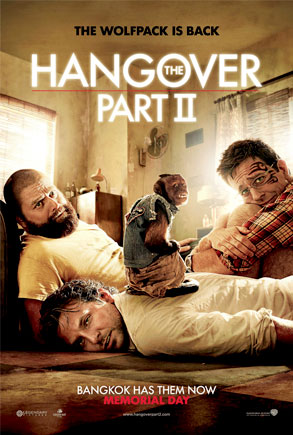 Warner Bros. Entertainment
We're laughing already.
Bradley Cooper, Ed Helms, Zach Galifianakis and Justin Bartha—who, in the first official poster for The Hangover Part II, has been replaced for the time being by a mischievous-looking monkey—are back and, from the looks of it, they have no idea what happened last night.
After apparently having quite the time in Bangkok, the betrothed Stu still has (the rest of) his teeth, but now he's sporting a Tysonesque tattoo (perhaps courtesy of Liam Neeson?). Phil looks pretty dazed and confused. Alan is starting to fret. Surely there's a large jungle cat locked up somewhere...
And where is Doug?!
The wolfpack is at it again in a theater near you on May 26.