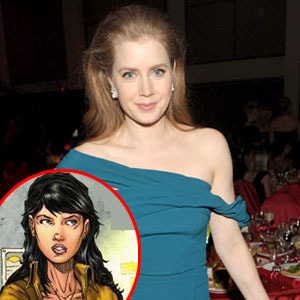 John Shearer/Getty Images
We got our Superman, and now we have our Lois Lane.
Warner Bros. Pictures and Legendary Pictures announced today that Amy Adams has been cast as Lois Lane, the reporter who steals the heart of Clark Kent in the Zack Snyder reboot of the Superman movie...
Snyder says in a statement: "Second only to Superman himself, the question of who will play Lois Lane is arguably what fans have been most curious about. So we are excited to announce the casting of Amy Adams, one of the most versatile and respected actresses in films today. Amy has the talent to capture all of the qualities we love about Lois: smart, tough, funny, warm, ambitious and, of course, beautiful."
Adams will play opposite Henry Cavill, 27, who was cast as Clark Kent back in January. Kevin Costner and Diane Lane have been cast to play Mr. and Mrs. Kent, the adoptive parents of Superman. Adams, 36, is coming off an Academy Award nomination for her work in The Fighter alongside Mark Wahlberg and Christian Bale.
In some not-so-super news, Snyder's recent directorial effort, Sucker Punch, came in second this weekend at the box office, grossing only $19 million.