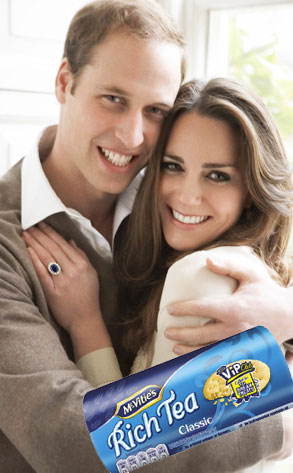 Mario Testino/Clarence House Press Office via Getty Images
Can you ever know too much about the Wedding of the Century?
If you answered no, then you are our kind of people. And now we have the details on the groom's cake that will be served at Prince William and Kate Middleton's wedding reception. So what kind of cake will the prince be enjoying after billions of people watch him get married? No pressure, Will...
The McVitie's Cake Company has been asked to make a chocolate biscuit cake for the reception, as well as a few hundred slices for the buffet. Apparently, this type of cake is a favorite of Prince William. The chocolate biscuit cake will also be featured with a traditional multi-tiered fruit wedding cake decorated with cream and white icing.
McVitie's has a long history with the royal family, dating back to the wedding of King George V and Queen Victoria, and just recently Queen Elizabeth II and Prince Phillip's 60th wedding anniversary in 2007.
Prince William's cake, plus the slices for the buffet, will equal out to 17 kilograms—i.e., more than 30 pounds to the metric-averse—of chocolate and approximately 1,700 McVitie's Rich Tea biscuits.
As for details on the main wedding cake, while it will be created by cakemaker extraordinaire Fiona Cairns (who has designed cakes for the likes of Paul McCartney), Kate will reportedly have some input on its design.
Middleton has already asked Cairns to place 16 different symbolic blooms and types of foliage on the cake, which will have tiers that include raisins, walnuts, cherries, lemon, grated orange, and French brandy.
Translation: that's a whole lot of fancy British dessert.