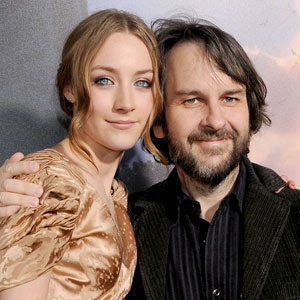 Gregg DeGuire/PictureGroup via AP IMAGES
The news hit in late January: Peter Jackson had signed on his Lovely Bones actress Saoirse Ronan for the much delayed but finally happening The Hobbit.
Reports claimed that 16-year-old Saoirse was to play Itaril in the two-part Hobbit series. However, the young starlet, who was nominated for an Oscar four years ago for her work in Atonement, tells me...
"That's not confirmed," she said when I caught up with her yesterday at Culina restaurant at the Four Seasons in Beverly Hills. (Side note: She brought me a Tootsie Pop for our interview. Too sweet!) "I would love to do it. It would be great to go there, and if they ask me I would say yes."
We have a feeling an official announcement will be made when her new movie, Hanna, hits theaters on April 8—to help boost ticket sales. In Hanna, Saoirse teams up with her Atonement director Joe Wright, starring as a young girl who is raised in the woods by her dad (Eric Bana), a former double agent for the U.S. He trains her to be an assassin. Cate Blanchett plays an evil intelligence operative who wants to bring them both down.
The fight scenes are intense. She actually goes fist to fist with The Hulk Bana when father is showing daughter the ropes.
Saoirse trained with the same team behind The Bourne Identity. She did martial arts and spent a lot of time at the gym. "Every day, I would do two hour trainings in the gym—weightlifting, treadmill, bench pressing, ab-crunching..."
Another movie Saoirse ha been a part of, but not really, is The Hunger Games. Her name was thrown about as a possible contender to play Katniss, a role that eventually went to Winter's Bone actress Jennifer Lawrence.
How far Saoirse got in the process is unclear. "I read the script," she said. "I think the story is very interesting, and I read the book and I really liked it."
For now, Saoirse is getting ready to turn 17 on April 12. She has asked for gift certificates to buy more music. While Justin Bieber isn't exactly her style ("I think he's a good dancer," she said), the more alternative side of the tracks is.
Saoirse listens to Beachhouse, War Paint and Grizzly Bear, among others. "I'm a bit of an indie chick," she said.
Her parents' gift is coming a wee bit early: "They got me tickets for Lady Gaga's show Monday here in L.A.," Saoirse beamed. "I went to see her in Berlin when we shot Hanna and that is when I became a really big fan."
Has she met the Mama Monster? Nope.
Hey, Gaga, if you're reading this, we'd love to introduce you to Saoirse. We promise you'll love her.