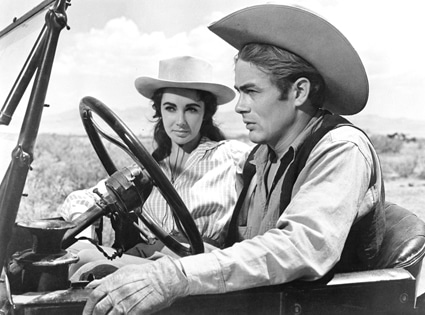 Giant Productions
Why didn't Elizabeth Taylor, who seemingly crammed nine lives into one, ever write a memoir?
Probably because she knew too much! Not only would she not know where to begin, but judging by what James Dean confided to her while they were making the 1956 epic Giant, the secrets known to her were so personal it wouldn't be fair to spill them.
And that brand of integrity seemed to inspire the same in return from those who knew her. A secret she shared about Dean with a journalist 14 years ago has only come to light now because Taylor made him promise that he wouldn't reveal it until after her death...
"I loved Jimmy," she said of her costar, according to an essay by Kevin Sessums in the Daily Beast in which he recalls interviewing Taylor in 1997 for an article about her AIDS activism.
"I'm going to tell you something, but it's off the record until I die. OK?" Taylor continued. "When Jimmy was 11 and his mother passed away, he began to be molested by his minister. I think that haunted him the rest of his life. In fact, I know it did. We talked about it a lot. During Giant we'd stay up nights and talk and talk, and that was one of the things he confessed to me."
Dean died in a car wreck before Giant even hit theaters. He was just 24.
And his was not the only tragically abbreviated life that crossed path with Taylor's. One of her best friends was A Place in the Sun costar Montgomery Clift, who battled depression and was disfigured in a car accident in 1957. He ultimately drank himself to death in 1966 when he was 45.
One can only imagine the secrets that Taylor took with her when she died on Wednesday.
While she authored several books over the years, including Elizabeth Takes Off in 1988 about her dramatic weight gain and loss, and the self-explanatory Elizabeth Taylor: My Love Affair With Jewelry in 2003, she never spilled her fellow entertainers' personal beans.
"I would have to give up today and dive into yesterday," she told Sessums in explaining why she never penned her memoirs. "You can't predict tomorrow. And my life has had so many startling tomorrows that I don't think they've stopped."