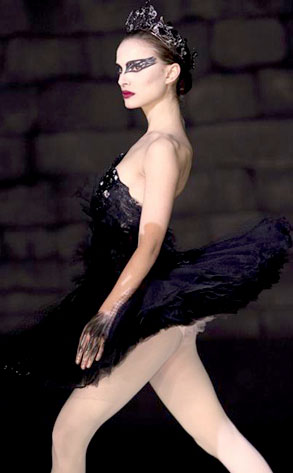 Fox Searchlight
And the Oscar backlash continues.
The beautiful Natalie Portman recently took home the Oscar for Best Actress for her outstanding performance as Nina Sayers in Black Swan, and she's had a rough time since.
She got tons of flack from women's groups because she called motherhood "the most important role of my life" during her acceptance speech; plus, Mike Huckabee—among others—complained that Nat "glamorizes" out-of-wedlock pregnancy.
So what's the controversy now?
In her acceptance speech, Natalie graciously thanked her trainer, former New York City Ballet dancer, Mary Helen Bowers, her fiancé and costar, Benjamin Millepied, as well as a handful of other contributors.
Someone whom Portman forgot to mention? Her dancing double, Sarah Lane, whose name has only surfaced after the Oscar win.
In an interview with Dance Magazine, Lane claims that she had been asked by a Fox Searchlight producer to stop giving interviews until after the Oscars.
"They were trying to create this facade that she had become a ballerina in a year and a half. So I knew they didn't want to publicize anything about me."
Indeed, the cinematic genius showing just how Portman's body was fused with dancing powerhouse Lane is well documented in the upcoming Black Swan DVD, due out next week.
Another diss? Lane's name also appears in the credits as an extra, not a dancing double.
But why the need for a facade? If Natalie totally worked her butt off for the role (which everyone says she did), is it really necessary to make us believe that she mastered in a year what most ballerinas can't even master after 10? She completely transformed herself, broken rib and all.
For Sarah, this aspect was most disappointing, and she comments "how unfortunate it is that, as professional dancers, we work so hard, but people can actually believe that it's easy enough to do it in a year. That's the thing that bothered me the most."
Not so fast, says Natalie's fiancé.
In a not so surprising interview with the Los Angeles Times, Millepied defends his bride-to-be.
"There are articles now talking about her dance double [American Ballet Theatre dancer Sarah Lane] that are making it sound like [Lane] did a lot of the work, but really, she just did the footwork, and the fouettés, and one diagonal [phrase] in the studio. Honestly, 85 percent of that movie is Natalie."
He explains that aside from CGI and close-ups, the reason Nat was able to do it practically herself in a year was "by making things fluid and not too complicated."
So whom do you all believe?
Yes, it would have been nice for Sarah to be acknowledged, but come on, we also think it's a little nerve-racking when accepting an Oscar. We say let Natalie have her moment.