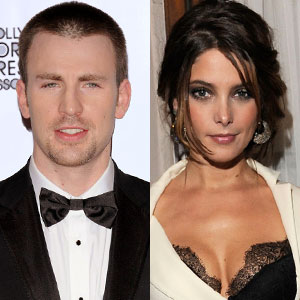 Giulio Marcocchi/Sipa Press; Amy Graves/WireImage
Holy hotness, Captain America.
After grabbing food at Boa, newly single Ashley Greene was spotted majorly getting her flirt on with stud Chris Evans while out at Trousdale last night.
Guess her ex-boyfriend Joe Jonas isn't the only one who can get grabby with hotties at the Hollywood hot spot.
Here's what went down:
"Ashley was all over [Chris], and he certainly didn't mind," dishes a partygoer there last night.
The Twilight star and Captain America hunk were hanging at Frankie Delgado's table, and they could hardly keep their eyes (and hands) off each other.
"They were dancing together very closely," adds our source. "It looked like they had a lot of sexual chemistry."
Hmmm, maybe it's not the first time these two babes have hung out.
Still, insiders close to both babes say not to jump to conclusions right now. Just last week, Greene was spending lots of time in New York with Kings of Leon bassist Jared Followill.
"Ashley is newly single. She's hot, of course she's going to be out having fun," dishes one of her friends.
Honey, we couldn't agree more! This is one of the hottest gals on the planet right now; she should be doing exactly this.
As for Mr. Evans, he was last seen canoodling with Dianna Agron, but friends insist he's single.
"Chris is a really fun guy and loves girls, just because he 'gets flirty' with one doesn't mean he is all of a sudden dating her," dishes a close pal.
Finally, two Hollywood stars that aren't eager to settle down just for publicity. Love it!
In fact, we dig it so much that we wouldn't mind seeing more of them together...