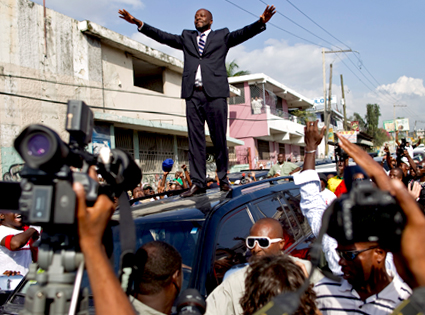 AP Photo/Ramon Espinosa
Usually it's only after a candidate is elected to office that the assassination attempts begin. And while it thankfully was nothing that dramatic, word quickly spread over the weekend that onetime Haitian presidential hopeful Wyclef Jean was shot in the hand while in his native country.
His rep told E! News on Sunday that the former Fugee suffered "a minor graze to his hand," was bandaged up at a local hospital and sent on his merry, if slightly more cautious, way. But then the questions began: Why was he shot—and in, of all places, his hand? Had the shooter been caught? And then came the oddest query of them all: was it possible that Wyclef was never even shot to begin with?
Sure, truth is stranger than fiction but details seemed to be failing to add up. Particularly after local police stepped forward and proclaimed that despite his valiant public face, Wyclef had not been shot, but rather, citing the word of his attending doctor, suffered only a minor cut after accidentally coming into contact with broken glass.
So is this all just propaganda, or was Wyclef really shot in the hand? Grab your bulletproof gloves, because this rumor is…
Despite the police's opposing take on the incident, Wyclef's rep is sticking to her story, claiming that the officers, and apparently Jean's doctors, somehow got their wires crossed. (Maybe Sean Penn had a word?)
"There have been conflicting stories in the news, but I confirmed with Wyclef last night that he was indeed grazed by a bullet while making a phone call outside of a vehicle," she told E! News today. "He is doing well and made it out to vote in Haiti yesterday."
The singer had been in his native country in advance of the election in order to campaign for a candidate he had been backing called Michel "Sweet Micky" Martelly, a 50-year-old pop singer and—we kid you not—carnival performer who's crude onstage antics have helped build his reputation.
Well, at least Wyclef is taking this politics thing seriously.
—Reporting by Ashley Fultz