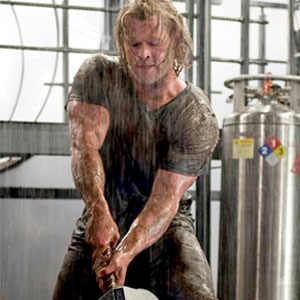 Marvel/Paramount Pictures/Zade Rosenthal
Does size matter?
It certainly does if you're Chris Hemsworth...
As you may have seen by now, the Aussie hottie bulked up quite a bit for his starring role in Thor, the upcoming flick based on the hammer-wielding comic-book warrior-god.
"His arms!" Rene Russo, who plays Thor's stepmother Frigga in the movie, gushed this weekend at the Humane Society's Genesis Awards in L.A. "He's huge. He's beautiful. I mean, not too big, but so beautiful."
Cougar alert! Just kidding—we couldn't agree more.
The movie doesn't open until May, but Russo is already signed on for the sequel. She laughed,  "Eventually they'll kick me out, so who knows how many I'll do."
Also at the Genesis Awards, Leona Lewis told me she's still hoping for a guest spot in Glee. "It will happen," she said. "We gotta make it happen."
The awards, which recognize news and entertainment outlets for their portrayal of animal protection issues, honored Kristin Davis with this year's Wyler Award for her work in bringing media attention to poaching elephants for their ivory tusks. Presenters and guests included Hot in Cleveland stars Betty White, Valerie Bertinelli, Jane Leeves and Wendie Malick, Michael Vartan and Emily Deschanel.