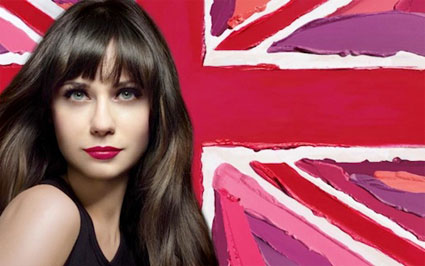 WTF?!
Those were our first thoughts, exactly.
Rimmel London just released its new ad campaign for Lasting Finish Lipstick with Zooey Deschanel, or at least, we think that's her.
It seems as though the company chose to retouch the actress's face a bit too much, and now we can't even recognize the (500) Days of Summer star!
Apparently, an all-natural Deschanel doesn't give "the London look."
Which leads us to our main question: What's the point of hiring a celebrity to be the face of your product when you ultimately decide to change her face?
OK, maybe we're jumping to conclusions. Maybe, along with lasting eight hours, this lipstick also changes your bone structure. Mmm...probably not.