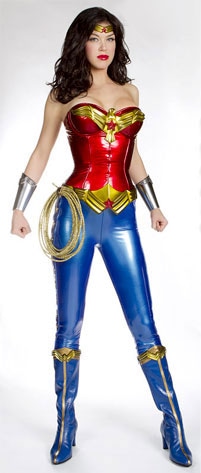 Justin Lubin/NBC
No, you didn't just accidently click on some Halloween costume site hawking cheesy knockoffs of famous get-ups.
Believe it or not, what you're actually looking at is the new Wonder Woman outfit that Adrianne Palicki is being forced to wear to play everyone's favorite Amazonian princess in the pilot for NBC's reboot of the classic comic.
But rather than embrace the Lynda Carter look that we all know and love, the designer behind this clearly opted to dramatically change things up—what with the addition of pants, changing the color of the boots and, well, don't even get us started on the whole shiny, latex thing that seems to be the new trend that so many of our favorite fearless crimefighters have gotten saddled with lately.
Yep, it's a wonder this woman ain't asking for a new tailor. Somebody send Tim Gunn to Paradise Island, stat!