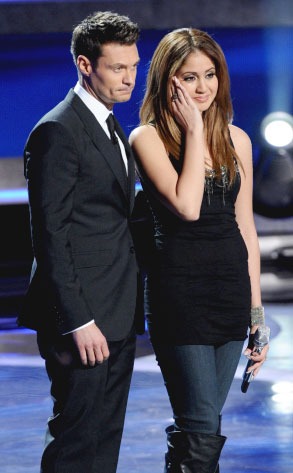 Michael Becker / FOX
It was fun while it lasted, but eliminated Idol contestant Karen Rodriguez isn't dwelling on what could have been. Yes, she was initially upset that her time singing for 30 million people a week is over. And of course, it was hard to say goodbye to her fellow contestants, especially BFF Jacob Lusk.
But her bond with judge Jennifer Lopez is what left the biggest impression—and it's also now her motivation to keep pushing forward.
So how is Karen coping with her elimination, and what did Jennifer say to help keep the young singer's spirits high? Here's what she told us this morning:
"After the show, I wiped off my makeup and my tears, went downstairs, did my interviews, and I went and saw the rest of the contestants and gave them big hugs," she said. "I always lived by the words 'Everything happens for a reason,' and there have been so many instances in my life where I've lost some things and you don't really know why [at the time], but in a few days or a few months I will see why. Maybe if I would have stayed in the competition longer, there would have been an opportunity I might have missed out on."
So what's next? Karen's shared her plan to follow in Jennifer's footsteps toward a multihyphenate career: "I would love to do movies and commercials," she said. "That would be one of my dreams. I admire Jennifer Lopez so much for that, because she's been able to handle that so well, having music and movies and doing everything she's been doing, so I definitely want to be like her, for sure."
We're kind of surprised Karen's evident confidence and ambition didn't shine more on stage, but Karen says she never lost faith in Lopez as her biggest fan at the judges' table. 
"Jennifer has been a fan of mine from the very beginning, she said so herself," Karen told us. "She said I was perfect. She said, 'You know somebody had to go home, and this is your time.' She was rooting for me. She told me if it would have been all on her, she would have saved me."
For now, though, Karen is thinking beyond the hit reality show that put her in the public eye, and she is interested to see how far the attention will take her. 
"There are so many things above American Idol that I want to do. I want to win a Grammy. I want to win an Oscar. I want to do so many things that will just keep topping the other," she said. "I don't want to only be known for top 12 finalist on American Idol, I want to be known as Karen Rodriguez, next Latin sensation, you know, 'crossover American Hispanic artist.' That's who I want to be known as. I feel I've made that name for myself, and I'm very excited for what's about to come." 
Were you sad to see Karen eliminated? Do you think she'll have a successful career like Jennifer Lopez? Who do you think will go home next? Tell us how you feel with a comment!