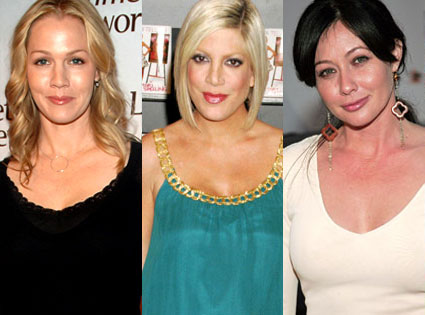 Stephen Lovekin/WireImage.com, Nancy Kaszerman/ZUMPress.com, Jerome Ware/ZUMAPress.com
Donna Martin has left the ZIP code.
Sources confirm that Tori Spelling has pulled out of the CW's 90210 spinoff because she is not receiving equal pay with her former costars Jennie Garth and Shannen Doherty. I'm told by insiders that Tori asked for a rate hike after discovering that Jennie and Shannen were signed for $40,000 to $50,000 per episode, while Tori was getting less than $20,000 per episode. Her request was denied, so Tori backed out of the deal altogether.
The show's rep at the CW says: "The CW has no deal with Tori Spelling to appear on 90210 at this time."
And Tori's rep says the same: "At this point there are no plans for Tori to appear on the 90210 spinoff."
Clearly, there is still time for the CW to pony up the cash and resign Tori to the series, and this now-public display of inequality may be just the motivation to do so.
I spoke with Tori recently, and she told me she was happy to see Shannen coming onto the show. "I think that is such a huge plus for the fans, the reason I'm coming back is for the fans, because we have amazing fans. So for them to see the original, to see Brenda Walsh on the show is huge."
So what do you think? Will the 90210 spinoff be the same without Donna Martin? Does she deserve the same compensation as the other girls? And most importantly, if there's a red dress, who gets it?! Comment below...