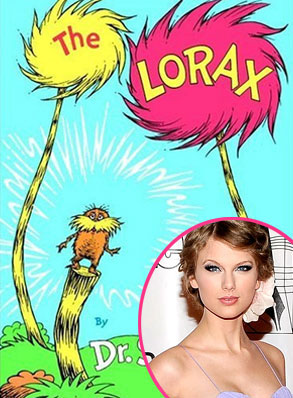 Random House; Jemal Countess/WireImage
It's kind of a love story, so Taylor Swift just said yes.
The Grammy winner will be lending her voice to the upcoming 3-D animated movie based on The Lorax, Dr. Seuss' environmentally minded fable about a creature who speaks for the trees in a fantastical forest, Universal and Illumination Entertainment confirmed Thursday.
Swift, 21, will voice Audrey, a love interest for Zac Efron's character, Ted, the boy who's determined to reclaim the forest from the evil Once-ler and win the girl of his dreams. Ed Helms, Rob Riggle, Betty White and Danny Devito—as the Lorax—are also onboard.
The singer made her feature-film debut in last year's ensemble rom-com Valentine's Day.