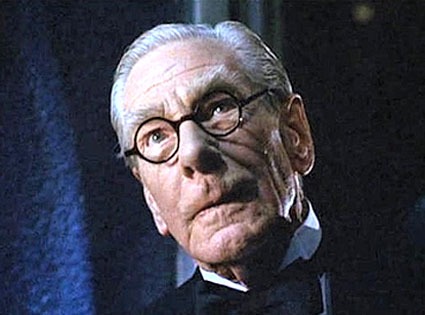 Warner Bros.
Bruce Wayne has lost his best friend and father figure.
Michael Gough, the actor who helped the Caped Crusader out of jams as Alfred the butler in Tim Burton's Batman and starred in dozens of films over a career that spanned five decades, died Thursday. He was 94.
After being tapped for Alfred Pennyworth in 1989's Batman, Gough reprised the part in 1992's Batman Returns, also directed by Burton, as well as two Joel Schumacher-helmed sequels, 1995's Batman Forever and 1997's atrocious Batman and Robin. But he did so much more.
The Malaysian-born thesp made his feature debut in 1947's Blanche Fury and worked extensively in British films opposite a who's who of legendary actors from Vivien Leigh and Ralph Richardson to Sir Laurence Olivier and Christopher Lee. He also appeared on British TV, most notably in several guest stints in the sci-fi cult series Doctor Who. He also gained horror fans with several Hammer flicks to his credit, including 1958's Dracula and 1962's The Phantom of the Opera.
Among his Hollywood credits are The Boys From Brazil, Out of Africa, The Fourth Protocol, The Serpent and the Rainbow, and The Age of Innocence. His final big-screen role came in 1999's Sleepy Hollow, which reunited him with Burton, but he also lent his voice to 2005's Corpse Bride, which the filmmaker produced.
No announcements have been made regarding funeral plans for the late actor.