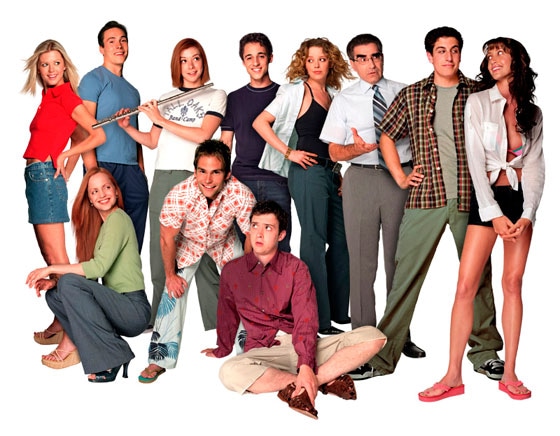 Universal Studios
UPDATE: Hide your flutes. Alyson Hannigan has finalized her deal to return to the big screen as the musically inclined Michelle Flaherty. With one of the last big holdouts set to come back, all the pieces of this reunion pie seem to be in place.
Think the idea of another American Pie movie is half-baked?
Considering the real-life trainwrecks that came out of the hit 1999 movie—see Tara Reid, Natasha Lyonne, Chris Klein and now Sean William Scott, who just checked into treatment for unspecified "health and personal issues"—it's a wonder this would-be fourth entry in the comedy franchise is getting made.
But sure enough, studio sources confirm to E! News that the sequel, currently titled American Reunion, is in the works.
So just who's in it?
Universal has locked in deals with Scott, Jason Biggs and Eugene Levy and is currently in negotiations with other members of the original cast, including Reid, Klein, Thomas Ian Nicholas, Mena Suvari, Alyson Hannigan and Jennifer Coolidge to bring them back for one last go-round.
The new installment will get a fresh spin, courtesy of the writing-directing duo of Jon Hurwitz and Hayden Schlossberg, the guys behind the Harold & Kumar movies. Paul and Chris Weitz who helmed the first picture are aboard as executive producers.
The series as a whole has raked in about $523 million worldwide and spawned four direct-to-DVD sequels. But in the 12-plus years since American Pie became Gen Y's answer to Fast Times at Ridgemont High, several of the film's original castmembers have seen their careers dragged down by personal travails.
Before his stint in treatment, Scott had the best rep of the group. After playing Steve Stifler in the first three entries, he found box-office success in Dude, Where's My Car? and The Dukes of Hazzard and most recently appeared in Cop Out.
Hanigan has carved out a successful, post-Buffy sitcom career with How I Met Your Mother, while Biggs has also worked steadily in films and TV, currently starring in ABC's Mad Love.
As for the others, you be the judge.
Save a stint on the sixth season of Dancing With the Stars, Shannon Elizabeth, who played sexpot foreign exchange student Nadia, has become a professional poker player. Suvari had an arc on Six Feet Under but has spent most of her post-Pie career bouncing around in indie films and hasn't had a critical or commercial hit in years.
Klein has two DUIs under his belt as well as multiple trips to rehab and his last film was the direct-to-DVD black comedy, Play Dead. He also lost onetime fiancée Katie Holmes to some other actor.
Drug, heath and legal troubles have virtually derailed Lyonne's once-promising career. Since the first movie, she's logged a DUI, an extended visit to the hospital and charges of harassment for threatening to sexually abuse a neighbors dog (ick). As of now, Lyonne is the lone original star who hasn't been specifically name-checked for Reunion.
And don't get us started on Reid, who's known more now for a bad boob job, sloppy party habits and failed relationships than for her acting. Speaking of, her self-proclaimed comeback in a Big Lebowski sequel turned out to be a joke that even had the Coen brothers cracking up.
Our fingers are crossed that the pull it off, though. We'll see how things shape up when Reunion starts filming on May 24.