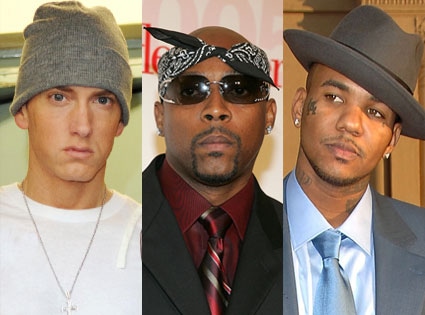 PacificCoastnews.com; Frazer Harrison/Getty Images; Stephen Shugerman/Getty Images
Eminem is paying his full respects to a master of hip-hop.
In the wake of Nate Dogg's untimely death today, the real Slim Shady praised the late MC for a career that influenced a generation of artists.
Here's what he had to say:
"Nate's voice in music will never be replaced. He helped create the blueprint for West Coast hip-hop, and I was one of the lucky people who had the privilege to work with him and the honor to have him as a friend
"Nate will be sorely missed. My condolences and prayers go out to his family and loved ones."
The 41-year-old Dogg, born Nathaniel Hale, found fame in the '90s as a featured performer on Dr. Dre's The Chronic before going on to success with the hit "Regulate" with pal Warren G. He also collaborated with Tupac Shakur, his similarly monikered cousin Snoop Dogg, Ludacris, The Game and 50 Cent and worked with Eminem on Xzibit's 2003 song, "My Name."
Warren G tells us that he's is shaken by the news: "Nate's passing is a terrible loss to all of those who loved him or had the opportunity to work with him. He will be greatly missed but he would want us to celebrate his life and the music he made.
"You are free now my brother, I will see you again one day."
The Game also released his own eulogizing statement to E! News: "We lost a great peer in the business. I will always remember the time I spent in the studio with him. He was very encouraging and professional. I will miss his voice, presence and advice. He's a part of hip-hop's rich history. My heart and condolences goes out to his family."
Mariah Carey tweeted today: "#RipNateDogg Thank u for lending ur voice to the S/T of my life & inspiring so many including myself & working w/me on 1 of my fav collabos."
As tributes come in from across the hip-hop community, Nate Dogg's close friend and manager, Rod McGrew, tells E! News he and Nate's family "really appreciate the outpouring of support from the fans." He also says the family was with the Prodigal Son when he passed and that this is a very "tough" time for them all.

"It was sudden and we were quite surprised," adds McGrew.
McGrew notes that while there is no official report yet on the cause of death yet—that will probably come any day—they believe Nate died of natural causes as a result of two strokes he suffered in 2007 and 2008.
According to the manager, the rapper's last stroke was a "deep stroke" that left him partially paralyzed though he fully recovered his cognitive abilities. McGrew said doctors believed the strokes could have been triggered by high blood pressure.
No funeral or memorial plans have been made yet, but could be announced as soon as tomorrow.