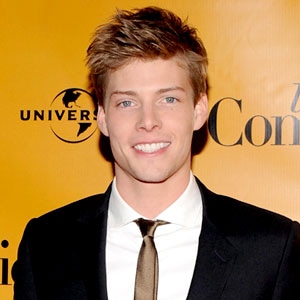 Bryan Bedder/Getty Images
Hunter Parrish may be thisclose to landing the lead role in the upcoming Hunger Games movie!
The very hunky Weeds star just confirmed to us exclusively that he has indeed been in talks to take on the role of Peeta Mellark in the futuristic flick.
And guess which actress is his No. 1 pick to play love interest Katniss Everdeen...
"I've met the producers," Parrish told us last night at Alternative Apparel's Fall 2011 showcase in West Hollywood. "I'd be grateful to get the opportunity. Like, really grateful. It would be amazing." (FYI: Beastly star Alex Pettyfer told Access Hollywood last month that he's also spoken with Hunger producers)
While Parrish says he hasn't seen a script for the film based on Suzanne Collins' bestselling novel trilogy, he has gotten lots of support from fans of the franchise on Twitter wanting him to nab the part.
"You don't get much better than that," he said. "The true fans of the book. So regardless of whether I'm a part of the film or not, I feel honored to just sort of be thought of. I read the books all last year, and I guess they're starting filming soon."
As for who he wants for the role of Hunger Games heroine Katniss? Someone close to his age.
"If it's Jennifer [Lawrence], man, sign me up!" the 23-year-old actor said of the Winter's Bone starlet, 20. "I think if it ended up being Hailee Steinfeld or Saoirse [Ronan] or who's the other one? Abigail Breslin. Then it would be weird. It would be really weird."