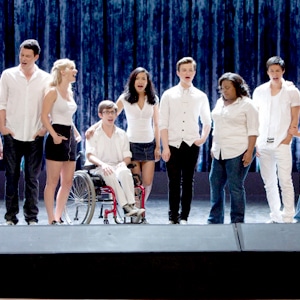 Adam Rose/Fox
Brace yourselves, Gleeks: There's a death in an upcoming episode, a supercute character flashback and a girl-on-girl reconnection. Which is which? Read on for the juicy dish on what's to come for Fox's hit musical series!
Plus, do Gossip Girl's Dan and Blair stand a chance, long-term? What killer confrontation is coming on Pretty Little Liars? And why is Justified's Winona in big, big trouble?
Kelly: I've heard that this will be the final season of CSI: NY. Is that true?
There's definitely some talk that this year's season finale of CSI: NY could be a series finale, but we're hearing that even cast and crew don't know for sure yet—they're going into hiatus in wait-and-see mode. If CBS has a great development season, CSI: NY will probably be laid to rest, but if CBS doesn't have any great new series prospects, CSI: NY might get one last go-round. BTW, if you have Q's for the producers of CSI: NY, tweet @KristinDSantos or email tvdiva@eonline.com, and we'll try to get you answers.
Jenna: I miss Friday Night Lights.
It's okay to cry, you're among friends. It's no secret we heart Kyle Chandler, and it's not just from that awesomely perfect football show, but going way back to the days as a crime-solving newspaper reader in Early Edition. Oh newspapers, remember those? So for those missing Coach Taylor we have good news, Kyle Chandler teams up with J.J. Abrams and Steven Spielberg for the summer movie Super 8 and we really think you need to watch the very cool trailer. We would like to see this movie now please.
Jerry in Buckeye, Ariz.: As an avid Two and a Half Men fan, I must admit that Charlie Sheen certainly does not appear rational and although I will miss him, I wish you could contact Chuck Lorre and tell him to consider the gal who played Karen on Will & Grace to replace Sheen. The show's writers would have a blast with a new storyline built around Charlie's mom's confession of an illegitimate daughter who returns when and however they "kill" Charlie! I think working a female lead into the show would sell better than a male replacement! Basically, Karen already has the same lifestyle and morals as Charlie! I would love to hear back what you think!
More work for Megan Mullally is fine by us! Your move, Chuck Lorre.
Tatpsy: Any news about Jonathan Groff's return on Glee? He's in LA and there are a lot of rumors that he's back on Glee.
You know we always keep our eyes, ears and arms open for any info on the Groff's return to our television. We believe Ryan Murphy's promise that Jesse St. James will be back, and we have a feeling he'll show up just in time for Nationals in New York City. Meanwhile, if you're really missing Groff, check out the trailer for his new film The Conspirator. He's big time now!
Julian: I love Breakout Kings. One of the best new shows on TV right now. Got any scoop for me?
You're in luck! Brooke Nevin, who plays Julianne Simms, will be chatting with us soon. And I bet she has tons of scoop for you. If only we had a whole mess of questions to ask her about the show. (Psst! That's your cue to head to the comments and ask her stuff.)
jennblack8: Any scoop on the OTH finale?
We spoke to James Lafferty recently, so keep your eyes peeled for our interview with him. Don't worry, we got some info on the season/series end of your favorite Hill that has One Tree. 
heyytamara: Glee. Klaine. Obv.
Kurt (Chris Colfer) and Blaine (Darren Criss) have a very lovely scene together coming up. Unfortunately, the setting of this scene is less than romantic…it's at a funeral.
MightyMouseMark: How about some FaBerry friendship?
You know, it's really hard to keep track of these Glee couple names. But don't worry, we've started to write them down in our Lisa Frank Trapper Keepers. Anyway, this week's episode will set the groundwork for a real Rachel and Quinn connection. Don't let the promo fool you; Quinn isn't as evil as she appears. Nor are her motives.
brithegLeek: Glee, por favor!
Remember when they cast cutie-patootie kiddo versions of the New Directions kids? Well the kiddo cuteness ain't over yet, because Glee bosses are looking for a "toddler" version of Lauren Zizes (Ashley Fink). Well, the character description says toddler, but she'll actually be more of a tot—this Zizes is described as being somewhere between five and eight years old, and pudgy.
Gloria: Thanks for the Parks and Recreation scoop! Tell me my favorite Pawnee couple Ben and Leslie will work out!
It's quite possible…but only if you have some patience. "It takes awhile," Adam Scott tells us. "One of the great things about the show is that they really take their time with this and if it happens, it takes awhile because they're both kind of lameasses when it comes to romance." Will Leslie (Amy Poehler) be enough to keep Ben around? "I think it's possible for him to put stakes down, maybe," he responds coyly.
BarbaraBLeal: Any scoop on Parks and Rec?
Tom (Aziz Ansari) will be all about building his "empire" for the rest of the season. "The first half of the season Tom is focusing on his romantic endeavors, second half of the season is all business," Aziz says to us. "He is coming back strong with cologne and a game show. It's kind of like The Dating Game although it's called Know Your Boo. And Tom is kind of the best show host ever."
Chelsjo: Grey's! Grey's! Meredith and Derek in particular! Please!
If you're hoping for a flashy Mer-Der duet in the musical episode, don't hold your breath. "I don't do too much, thank goodness," Patrick Dempsey tells us. "I'm supporting all the singers, but Sara Ramirez is really wonderful, and Kevin [McKidd] and the rest of the cast. Everyone pretty much sings at the moment and a lot of the songs are [ones] that made the show famous, which is really a nice touch I think, and very emotional."
Marianamesq: GREY'S!
Well, since you wrote it in all capital letters, we have to give you scoop, right? Jesse Williams tells us he's "not really going to be singing," although he might be "part of a five or six part harmony." But that doesn't mean he's not all pumped up to see the finished product. "I'm really excited and I'm not generally a fan of musicals…but this one is really, really moving and it's not song and dance," Jesse says. "It's got nothing to do with Glee. It's very much still anchored in the tradition of what Grey's Anatomy does with drama."
sarahjones85: Anything you have on Castle would be great!
Are you a "shipper" type? Then you will love the March 21 episode of Castle. But not because Castle (Nathan Fillion) and Beckett (Stana Katic) run off and get married or anything. While Castle and Beckett are investigating the death of a soap opera writer, there are tons of conversations on how crazy "shippers" can be and how invested fans are with their favorite TV relationships. It's hilarious, unless you are as crazy as the "shipper" in the episode is. In which case…seek help.
fannie13: News about Castle please!
Next week's episode will have one of the most dramatic and theatric arrests ever made on the show. But stay tuned in after the handcuffs are snapped on, because Castle and Beckett have a sweet little moment that will surely leave you smiling.
Melissa: I keep hearing that all the main characters want to leave Gossip Girl soon. Talk about devastating! Do you know anything about this?
We do know that if a main castmember were to decide to leave GG to pursue other projects, it would not be an easy decision on their parts by any means. Just ask Penn Badgley. "It's been a rollercoaster. It's been up and down and it's been the most definitive experience of my life," he tells us. "And I know it is for every one of the cast members regardless of what we may say on or off camera. It's huge. It's been monumental for all of us." Hear that? Should any of 'em say au revoir to Gossip Girl, at least you'll know they won't go quietly.
dare2dair: Anything on Dan and Blair on Gossip Girl? Any hope for Dair at all?
Penn Badgley tells us, "It doesn't end how you think it does at all. I can't say [if it's good or bad]. It's sudden."
MeganEWorley: Justified! Please...
Remember how we told you Winona (Natalie Zea) was going to go "a little crazy" well that time has come. In this week's episode Winona is a bad, bad girl, and her actions are going to have big consequences if she gets caught. Key word: If. Thank god she has a gorgeous ex-hubby who is willing to go the extra mile to keep her out of the big house. But if you think her brush with the law is going to be wrapped up easily in one episode? Think again. Dun-dun-dun.
OliviaRoy: Justified scoop please, specifically anything on Loretta, the girl is breaking my heart :(
We adore Loretta as well and when we talked to Justified boss Graham Yost he told us, "Loretta (Kaitlyn Dever) is the girl Mags (Margo Martindale) never had, so she absolutely adores Loretta. Loretta is in a weird position. This is actually a happier life for her with the Bennetts, but then we know that looming over everything is this secret and when it comes out, what will happen then?" Knowing how last season's epic battle went down we are willing to bet this feud showdown involve guns, explosives, poison or all of the above.
Kaley: Don't judge me, but I love Hot in Cleveland. So if you happen to stumble across any spoilers…
Haven't you figured out by now that this is a judgment-free zone? We proudly cover Teen Mom 2, after all. Now onto that spoiler request, Jane Leeves was more than happy to give up the scoop. "There will be a cliffhanger at the end of this season, and when we come back in June we won't be in Cleveland anymore," she reveals. "I think we're outside of Cleveland for the first episode." But…what will they call the show then?
RosewoodGirl94: Any major spoiler...or anything on Pretty Little Liars, something like a real hint? Pretty please?
Well, since you asked so nicely, here's a hint: In next week's finale, murder suspect Spencer (Troian Bellisario) confronts Ian (Ryan Merriman)—the guy she believes killed Allison—in a church with what seems to be some crucial evidence. What it is? And to what Hitchcock movie is this ep, titled "For Whom the Bell Tolls," paying homage? Share your guesses in the comments!
taylorth7: Pretty Little Liars scoop please! Any Aria and Ezra info?
Remember the "relationship stumbling block" Pretty Little Liars show runner Marlene King told us that Aria (Lucy Hale) and Ezra (Ian Harding) we going to "have to overcome"? It's a biggie (not as big as statutory rape, of course, or ethics violations) and goes down in tonight's ep: Aria finds a picture on Ezra's computer of her BF cozying up to another girl! The pic was taken in Italy, so apparently Ezra isn't cheating, but the girl—named Jackie—is wearing an engagement ring! Ruh-roh. Welcome to the Liars Club, Ezra Fitz!  
Sarah in Portland, Ore.: How is Off the Map doing? I don't see any press, and it makes me nervous. I love this show!
Off the Map is very much on the bubble. We just talked to Caroline Dhavernas (look for more from Caroline on Wednesday), and she told us, "Lily has to learn why they are [growing cocaine], how is it making their lives easier or healthier than what they used to do before, so every issue [she encounters] seems to have gray zones and nuances. Of course, by the end of the season Lily is caught up in a storyline that…well, she was led there because of her having to expand her view."
Emeline: Psych?
Psych rules. The writers are planning an episode called "This Episode Sucks" where "Lassiter (Timothy Omundson) falls hard for a woman he meets in a bar—who may turn out to be a vampire that drains her victims of blood," and they're looking for someone to play a character named "Thorn" who has "platinum hair, earrings and a British accent." Awww…James Marsters' Spike was an iconic character, wasn't he?
1outspoken1: Supernatural!
Misha Collins tells us, "In the final episodes this season, we're getting more into the battle in heaven, and we're even going to touch back on Sam's soul. The end of the season is very dialed into the season-long mythology...Cas does spend time with the Mother of All lady, and Cas does not go to the Wild West. Missed opportunity. He could have worn chaps."
nandocasiIlas: Any scoops on TVD's Damon and Elena?! We're dying for spoilers!
Want to see The Vampire Diaries: International? Ian Somerhalder sure does, and he has it all planned out. "Maybe Damon kidnaps Elena and goes to Paris and they go frantically looking for her, and then they go to the Caribbean," he plots to us. We love that idea! Especially since Ian doesn't even know what's happening for Damon and Elena in the future. "We get our scripts two days before we start shooting them," he says. Memo to Kevin Williamson: Take 'em to the tropics!
Cortexi_Fan: Fringe!
Season four—and gods willing, there will be a season four—might bring us a new lady castmember. Producers are casting for a green FBI agent named Emily to come aboard for the finale and possibly recur next year. Let's see, Rachel Nichols is already locked up by Criminal Minds, and Emily Rose is on Haven, so…paging Maggie Grace! (Who else would you like to see appear as a 23-year-old fed on Fringe? Hit the comments!)
KimLVHart: White Collar scoop would be much appreciated!
We'll be meeting Neal's parents next season! They haven't cast anyone yet, but Matt Bomer is putting out an APB for anyone interested in playing his mom and dad. Ideas?
Maria: CSI?
Ruh-roh. Langston (Laurence Fishburne) may be going off the reservation in  episode 21; he's going to buy a laptop and a gun from a pawn broker, and we're just wondering why a law enforcement agent would need an off-the-books computer and gun…
reebsreiswig: Do you have anything on season four of Leverage?
The Leverage team will face a new nemesis in season four (premiering June 26 on TNT) in Latimer, an "unflappable laidback bastard" who has become rich thanks to Nate Ford & Co.'s Robin Hood cons. Like an evil Warren Buffet, he's figured out what the team is up to and she's taking advantage of the companies they bring down. 
John: Californication scoop please.
If you're loving this season of Californication then maybe you're wondering, "How will they ever top it next season?" Fast-forward anyone? Season four hasn't finished yet but they are already casting Charlie (Evan Handler) and Marcy's (Pamela Adlon) child, age two and a half to four for the series' fifth season. Maybe the writers haven't yet narrowed down the time jump between seasons, or perhaps the actors who will play the littlest Runkle will be like all good Hollywood elite and lie about their age.
SadieJezierski: Chuck!
Sarah's bachelorette party will feature a male stripper disguised as a enemy commando. Wackiness ensues. Also, um…ick.
—Reporting by Jennifer Arrow, Jenna Mullins, Dru Moorhouse, Cristina Gibson & Christina Dowling