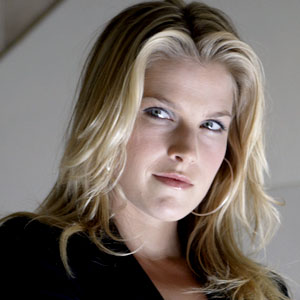 NBC
Hey, tubers! Just got back from the set of Prison Break set where I spied Wentworth Miller kissing someone very exciting. (And it wasn't me, but I'm still excited, so you can probably guess who...Squee!) I also have the word on how Ali Larter will come back to Heroes. Ooh! Plus more Office scoop on Toby (Paul Lieberstein) and Pam (Jenna Fischer). So should we get started, or would you prefer to swap rhubarb-pie recipes? What's that? You want the scoop? OK....
Wanda2Saints in Los Angeles: Hey, Kristin! You promised scoop on Wentworth, Jenna and Ali right up there in your intro so you better deliver. Where is it?
Hey, Wanda! Thanks so much for asking. It's down there under the "Spoiler" banner. Love your glasses!
Brett in Federal Way, Wash.: Any word on whether we will be seeing our favorite damsel in distress, Kim Bauer, on this season of 24?
My 24 sources told me there are currently no plans to put Kim (Elisha Cuthbert) in season seven, and my Lipstick Jungle sources told me there are no plans to let that other 24 Kim (Kim Raver) off of her NBC series to come and do her previous Fox gig. However, there are plans for Kim's hands to be firmly cupping Rob Buckley's backside, so all is not lost.
Valerie in Somerset, Ky.: Any dirty gossip on the drama queens of The Hills?

Lester Cohen/WireImage.com
You know I only take it dirty, my friend. (And that didn't sound right at all.) Even though Lo Bosworth has been compared to the devil, she thinks season four will be her salvation. "I think I will be redeemed and everybody can go back to not hating me," Lo told us at a recent event. Of course, the previews for season four seem to promise otherwise, as tension continues to build between Lo and Audrina. By the way, MTV will be filming/hosting a beach party at Malibu Colony on Aug. 18 leading up to the premiere of the new season at 10 that night.
Maggie in Tampa Bay: What's the scoop on Brody's Bromance show? Any good?
The real scoop is how Brody reacted to Stephanie Pratt's name being brought up: "Blaaaaah." So the feud continues. As for the show, Brody is looking for a new friend on the MTV reality series, which premieres later this year and is brought to you by Ryan Seacrest Productions. Why does that name sound familiar?
Starcop in Chicago: My life won't be complete until Carla and Turk have more babies on Scrubs.
You're not alone! (But maybe you should seek other hobbies?) I caught up with Judy Reyes at the premiere of her new Lifetime movie, The Delimar Vera Story, and she told me about Scrubs season eight: "This year, Carla wants more babies. Judy wants more movies, but Carla wants more babies." By the way, if you get Lifetime, be sure to check out Delimar Vera this Sunday at 8. Judy's playing a distraught mom who knows her daughter is alive even though everyone else believes the girl was killed in a house fire when she was 10 days old. Ugly Betty's Ana Ortiz is also great in it.
Melissa A.: You said there would be loving for Angel on Dexter? Spill, please!
I ran into David Zayas at the Delimar Vera premiere—apparently he, Judy Reyes and Ana Ortiz were all good friends long before they were famous—and I asked about Angel's new love interest this season. He told me, "Angel's new love interest is not Deb; it's possibly a character to be named later that you haven't met yet. And no, that character is not a serial killer, as far as I know." Of course, the course of TV true love never did run smoothly, in part because, as Zayas points out, "Angel's always got that offbeat style of approaching women..." Heee. As for Bautista's professional life, Zayas told me, "Angel gets a lot more responsibility when it comes to his police duties."
Aaron in Bismarck, N.D.: Can I please have some My Name Is Earl scoop? What's going on with the Camdenites this season?
Our favorite hopping stripper, Catalina (Nadine Velazquez), told me she'd still be bouncing around at Chubby's and there's also a possibility for a boyfriend this season. "I did suggest that we have Erik Estrada come in as my father somehow; I would love that, that would be hilarious. I'll keep pitching it," said Velazquez. I do love me some Ponch!
SPOILERS
Casey in San Diego: I loved the Office update. Thank you! But what I want to know about is the guy who's really destined to be with Pam: Toby!
Owwww! My ears! They're bleeding. Just kidding. I do love me some Toby (though do not want him with Pam, sorry), and therefore I am very saddened to report that he may have fallen on hard times. Sources told me exclusively that USC wasn't only home to the prestigious Pratt Art School, but also a Costa Rican hospital. ¡Carumba! I seem to remember someone named Toby leaving for that very country at the end of the last season, so I'm hoping he's OK.
Rick in Orange, Calif.: Kristin, you said you were going to share what Rich Sommer was doing on The Office. What's the scoop?
Looks like Mad Men's Rich Sommer is going to be playing one of Pam's classmates, and sources told me they were giggling together during a scene. I suspect they'll have just enough of a flirtation to make Jim a little insecure about Shiny New Beesley. If it's more than that, sorry, but his character must prepare to die.
Isabella in Rio de Janeiro: Ola, Kristin. I'm dying here to learn more about Ali Larter's character on Heroes. Niki, Jessica, Gina, Tracy? Is she a different personality or is she an entirely different person now? Please, give us something! XOXO Beijinhos
Ola, Isabella! Tudo bem? E...that's all the Portuguese I've got, sorry. Ali's new character is named Tracy Strauss, and she's a political adviser to the governor of New York. Is Tracy connected to Niki? Well, a reporter sure thinks that the nekkid pictures of "Niki" on the Internet are not just a case of mistaken identity. Also, when we pick up the story, Tracy is angling to get Nathan Petrelli a pretty good government job. There has to be a tie between Niki and Tracy in there somewhere, and if you want to know exactly how, email Mr. Linderman, because he knows, and I think he might be the mastermind behind the whole switcheroo...
Wanda2Saints: But wait, isn't Linderman dead?!
Yes, but he is not gone! And Nathan will be the first to see him.
Claire in Santa Fe, N.M.: Kristin, I need Heroes info!
A favorite character's father will be losing his head—and not just in the temper-tantrum, poor-impulse-control way. Dad's skull will no longer be attached to dad's spine.
Marcia in Tallahassee, Fla.: Kristin, what is the latest on Wentworth Miller! I went all the way to San Diego to see him at Comic-Con, and he didn't show, so the least you could do is give me scoop.
Hey, I went all the way to Comic-Con to see you, so now who's feeling dissed? I just hit Prison Break's new Los Angeles set (right down the street from E!, holler!) and learned that (a) it is the former digs of Arrested Development, so naturally, I had a moment, (b) Michael and Sara were playing house(boat) and tonsil hockey—whee!—and (c) the whole A-Team group will hit up Vegas this season in their quest to take down the Company. If you're in Vegas this week, look for Wenty and friends at one of the hip casinos! They're shooting there.
Andrew in Onondaga, N.Y.: What about some Grey's Anatomy love for the older kids at the hospital?
Gladly. Chief Webber (James Pickens Jr.) is going to be whipping the staff into shape when the hospital starts to slip in the national rankings as one of the best teaching hospitals in the country. Seattle Grace not running smoothly? Maybe that's because all the doctors have time for are "cat naps" in the on-call room. I gotta get me a j-o-b at Seattle Grace!
Mark in Philadelphia: Thanks for the juicy Mer-Der housing update! Speaking of that, are Yang and Torres still going to be living together next season on Grey's Anatomy?
My Grey's spies told me that prestrike there was going to be a little Three's Company action going on with Hahn, Torres and Yang. Now that Callica has been established, will the lovebirds be moving in together? And who is the Jack Tripper in this interesting living arrangement?
Lester Cohen/WireImage.com
Britania in Humble, Texas: Kristin, please tell me Eli Stone will be good and Katie Holmes is good on it? I love that show.
And how. A little birdie told me Eli and Katie Holmes' character looked pretty cozy flirting together on a park bench. Could this possibly mean Katie is a new love interest for Eli? What do you think of that? A good match?
Anthony from Oahu, Hawaii: What can I expect from the upcoming season of Neil Patrick Harris Heaven aka How I Met Your Mother?
Good news for Sarah Chalke fans. She's set to be in four of the first six episodes this season, and HIMYM boss Craig Thomas isn't ruling her out as the mother! He told me that unlike other shows such as Lost that drag out major finale cliffhangers, "We're diving right into it in the premiere." So we'll find out where Robarney and Tella stand right away.
Money in Detroit: So you reported the Connor family loses track of Cameron on Terminator, but where does she go?
I'm hearing Cameron ends up in a halfway house. What? Even girls who use staple guns on their faces for quick-and-dirty surgery need a little help sometimes. I'm also hearing that Cameron will forget John and throw him up against a wall when he finally catches her.
Lory in New York: What is gonna happen when our Gossip Girl favorites graduate school? Please, tell me anything. You know we love you.
Looks like the Gossip Girl series is sticking close to the books when it comes to college admissions: In an upcoming ep, several of the kids head to New Haven to check out the Yale campus. If they eventually graduate, they'll join a prestigious list of fictional Yale alumni that includes Rory Gilmore (Gilmore Girls), Joshua Lyman (The West Wing) and Montgomery Burns (The Simpsons).
Marco in Atlanta: You mentioned that Brooke would be in a "dark place" on the new season of One Tree Hill. Can you give us any more hints?
If she doesn't get an Emmy for this, she'll be robbed.
Archie in Addison, Texas: What's on deck for the boys of Entourage?
I can tell you there will be a funeral this season...Before you freak out and think one of our four gorgeous boys is leaving the crew, it's actually a good thing. That Ramones movie Vincent has been dying to make just may become a reality.
Lynn in St. Paul, Minn.: Got any Psych scoop you've been hiding from us?
Gus' mom and dad (Ernie Hudson and Phylicia Rashad) will be back for the special Christmas episode, and we'll also be introduced to Gus' big sister Joy! Got any dream casting in mind for that gig? Post in the comments.
Jay in Phoenix: If you know what is to come of Brenda and the crew on The Closer, I would love to hear.
Closer boss James Duff told me that tonight's show "is what we call one of our McHale's Navy episodes" (meaning everything that can go wrong for the gang goes wrong) and that it features Jennifer Coolidge in a hilarious guest spot. I'm also told that as the season progresses, you can look for more of a relationship between Provenza and Sanchez and that Det. Daniels is stepping up this season and will be prominently figured in most of the cases.
Amanda in Miami: Are Cappie and Casey ever going to be together again on Greek?
Rusty is bringing Casey's new boyfriend to a Kappa Tau party, which peeves Cappie, so I'm thinking the future of the Casey-Cappie relationship looks none too bright.
—Additional reporting by Natalie Abrams and Jennifer Godwin