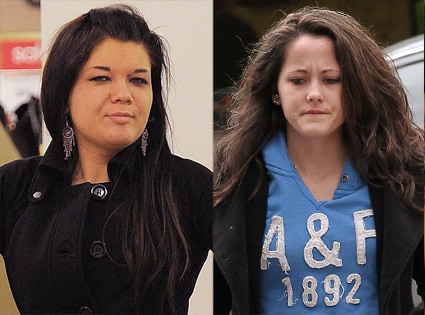 GSI Media
The battle is on between the bad girls of Teen Mom.
Veteran Amber Portwood has learned some life lessons the hard way, and they've all been captured by MTV's cameras. But instead of being sympathetic to Teen Mom 2's Jenelle Evans, Amber tells E! News she "despises" the second-season star's wild ways...
"I pretty much despise what she stands for. She's an idiot and I don't care if people know or not," Amber told us. "I literally have worked my ass off because of this whole battery thing to make sure I keep my daughter. They [MTV] shouldn't put her on, it's embarrassing!"
Well, don't hold back!
Let's face it, it's not new information that Jenelle is not ready to be a full-time mom. And although her own mother, Barbara, seems borderline crazy at times, we're glad baby Jace is being taken care of while Jenelle gets her ish together. 
In the meantime, Jenelle will appear in court April 14, on charges relating to her alleged breaking and entering and pot possession arrest back in Oct. 2010. She faces up to 260 days in jail.
Hmmm, maybe she'll run into her castmate?