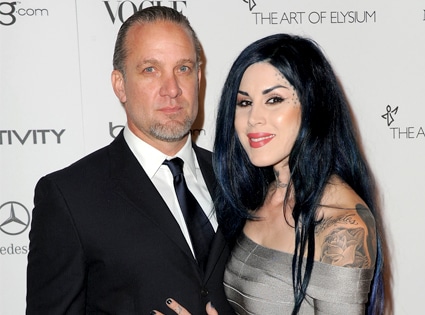 Jordan Strauss/WireImage
Did Jesse James and Kat Von D, or didn't they?
All we know for sure is that if the notorious duo did get married, it wouldn't be the first time Hollywoodistas did the deed on the sly.
Here are five other couples whose unions flew way, way, way under the radar:
Jason Merritt/Getty Images/Getty Images
1. Mariah Carey and Nick Cannon: No, the diva and the Drumline kid weren't able to keep their April 30, 2008, wedding in the Bahamas out of the headlines for long, but given their familiar faces, and our Google Earth world, it's remarkable they managed to keep things under wraps for even a day—which is exactly what they did. (Full disclosure: E! News helped spoil the secret. Sorry.)
Kevin Winter/Getty Images
2. Bob Dylan and Carol Dennis: Sure, we knew the "Tamourine Man" could be as inscrutable as his lyrics—and his mumble. But we had no idea how inscrutable until we learned of his secret marriage to a backup singer…nearly 10 years after it ended.

3. Mike Myers and Kelly Tisdale: Considering the Love Guru's first marriage to Robin Ruzan was low-profile, it's not a big shock that the comic kept his second marriage, to Moby's former love connection and cookbook coauthor, no-profile. But it's hugely impressive he and the stealth missus maintained that status for five months (until the New York Post ratted them out).  

4. Janet Jackson and Rene Elizondo: What makes this union one of the all-time great secret marriages? The fact that it doubles as one of the all-time shocking splits. To recap, the marriage was only confirmed (if not suspected) when Elizondo filed for divorce nearly a decade after marrying the pop star, and more than a year after splitting from her. 

5. Howard Hughes and Terry Moore: Next to The Aviator man of mystery, Carey, Cannon, Dylan, Myers and Jackson are all amateurs. According to Moore, a onetime Oscar nominee best known for the original Mighty Joe Young, Hughes married her in 1949, and, despite all his (and her) subsequent marriages, stayed married to her until his 1976 death. (She said they also had a daughter, who died shortly after birth.) Moore's account was contested in court; she won a settlement from the billionaire's estate in 1983.