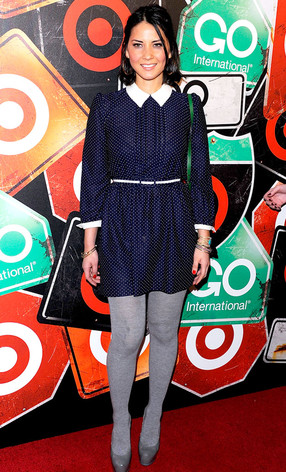 Andrew H. Walker/Getty Images
UPDATE:
Nat Says: "Updating my image since polygamy is so big now. Sexy sister wife, anyone?"
________
Calling all couture cops—it's YOU Write 'Em Up time!
The Perp: Olivia Munn, at the GO International Designer Collective Launch at the Ace Hotel in New York City
Talk about mixed messages! From the waist up, this sexy star is all church lady in a pleated, polka-dot dress with prim white collar.
But her membership in the good girl's club would be revoked by the length of her thigh-grazing skirt and gray stilettos. (Never mind the posing naked, jumping into pie or PDA with Matthew Morrison.)
It's a little spice topped by way too much nice. Write a clever caption below about her confused costume and we'll post our favorite here and on our Facebook page.