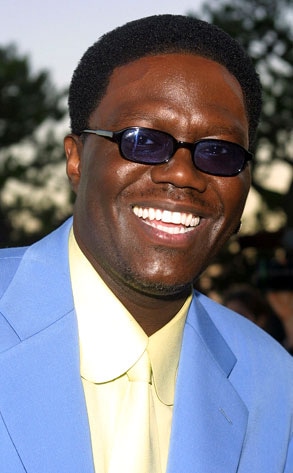 Lisa O'Connor/ZUMAPress.com
Bernie Mac wanted to be like Bill Cosby: He wanted to make his mother laugh.
The actor-comedian, who told jokes on train platforms and plugged away for decades before coming into the spotlight on his own Fox sitcom, the Ocean's movies and more, died today—one week after it was learned he'd been hospitalized with pneumonia.
He was 50.
A spokesman for the Cook County Medical Examiner's office confirmed to E! News that Mac had been a patient at Chicago's Northwestern Memorial Hospital for "over a week," and that he died this morning of "natural causes."
Yesterday, Mac's publicist, Danica Smith, responding to rumors that the star had fallen critically ill, said Mac was in stable condition, and was "responding well to treatment."
Mac suffered from sarcoidosis, an inflammatory disease that can affect any body organ, per the Mayo Clinic's website, but that Mac revealed in 2005 had taken root in his lungs. According to Smith, the pneumonia that struck down the star was unrelated to the disease, which had reportedly been in remission.
Prior to falling ill, Mac had been typically booked—shooting a new proposed Fox comedy series, Starting Under, finishing off a new big-screen comedy with Samuel L. Jackson, Soul Men, due out in November, and even offering himself as vice-presidential material to Barack Obama.
Mac made the overture to Obama at a fund-raiser last month for the presumptive Democratic presidential nominee. As reported by the Chicago Tribune, Mac admitted to the audience that he wasn't likely to get the VP job because, as he put it, "I cuss."
While Mac did cuss, his comedy was, as is befitting a man married for more than 30 years, rooted in family.
From 2001 to 2006, Mac played the exasperated but thoroughly no-nonsense father figure on The Bernie Mac Show. Mac earned two Emmy acting nominations for playing a version of himself, or, maybe more accurately, of his stand-up act. The misadventures of a comedian charged with taking care of his sister's young children was not unfamiliar to fans of the concert film The Original Kings of Comedy, which saw Mac riff on the same topic.
In the movies, Mac wasn't quite as domestic, but, with the right material, he could be just as funny.
Mac was one of George Clooney's invaluable heist men in 2001's Ocean's Eleven, and its two follow-ups, Ocean's Twelve and Ocean's Thirteen. He was the den mother to Drew Barrymore, Cameron Diaz and Lucy Liu in the 2003 Charlie's Angels sequel, Full Throttle, taking over Bosley duties from Bill Murray. And he was on Billy Bob Thornton's case in Bad Santa.
In 2004, he was the main man, at last, in the baseball comedy Mr. 3000.
A Chicago native born in 1957 as Bernard Jeffrey McCullough, a surname that naturally lent itself to the nickname "Mac," the future star was a school-age kid when he saw his crying mother give in to laughter while watching Bill Cosby on The Ed Sullivan Show.
"That's what I want to be, Mama. A comedian," Mac wrote in his 2003 autobiography, Maybe You Never Cry Again. "Make you laugh like that, maybe you never cry again."
Mac's mother never lived to see her son make good on his promise, at least professionally—she died of cancer while he was in high school. Mac's career in comedy started not long after. In 1977, while giving community college a go, the 19-year-old Mac started telling jokes on Chicago's "L" train platforms. Sometimes, a fellow commuter would slip him a bill. He was on his way.
Starting with 1992's Mo' Money, Mac began getting bit parts in movies. A 1995 HBO special, Midnight Mac, validated his comedy credentials, while a supporting role in 1999's Life, the prison comedy starring Eddie Murphy and Martin Lawrence, raised his profile.
Mac's game-changing break came in 2000, with the release of the Spike Lee-directed The Original Kings of Comedy. The film documented a show featuring Mac, Steve Harvey, D.L. Hughley and Cedric the Entertainer, veteran comics who had long toured as the "Kings of Comedy." The movie enjoyed an unexpectedly strong opening weekend, and went onto become the second-biggest-grossing stand-up comedy film, after Eddie Murphy Raw.
Suddenly Mac, the only one of the four comics then without a prime-time vehicle, was a star.
"All of that was humble beginnings," Mac said in the Chicago Tribune in 2002. "And I say that with motivation because I remember them without any shame, without any sorrow, without any pity. That's what made me."
Once it kicked into high gear, Mac's career never slowed. While his new Fox series wasn't picked up for the fall, Mac had lots more going on, including voice-over work as Ben Stiller's lion father in Madagascar 2: Escape 2 Africa, due out in November.
"I always want to top myself. I want to get good," Mac told Time magazine in 2003. "You just don't know how much I want to get good. I want the audience to leave the theater and say, 'He did good.'"