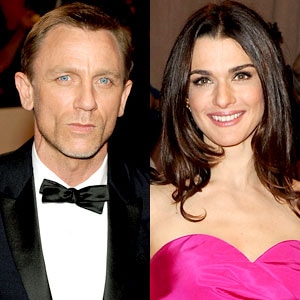 Bryan Bedder/WireImage; Stephen Lovekin/Getty Images
Daniel Craig and Rachel Weisz had a romantic date night in West Hollywood Tuesday.
The not-so-controversial new couple (honestly, the lack of controversy here is shocking) arrived at Tower Bar at the Sunset Tower Hotel around 7:45.
So were they shy to show affection?
Nope! The two were dropped off by a driver and went out to the terrace hand in hand, where onlookers tell us the gorgeous pair made themselves super cozy at a private table in the back.
Smart that these two are low-key with their romance right now, considering they both got out of very serious relationships around the same time. The time line is just a tad suspicious, no?
One big question will be whether they make a public appearance together anytime soon.
Craig has tons of films out this year, and he always had longtime girlfriend Satsuki Mitchell as his red carpet staple.
Another gal spotted sans her brief mystery fling was...
Teresa Palmer, who celebrated her birthday with some bowling at Spare Room at the Roosevelt Hotel Thursday night. 
No Zac Efron in sight, though. Remember, these two were seen sucking face at Voyeur nightclub just last month!
Wonder if he's back with Vanessa Hudgens? Doubtful, considering the Beastly star was spotted flirting it up with 90210 cutie Trevor Donnovan back during Oscar weekend.
Even though there was no Zac, we're told Teresa looked happy and gorgeous—even in bowling shoes!—in a black party dress with her blond hair in a ponytail.
"She looked like she was having a blast with her friends," sources there tell us. "She was the ultimate hostess, welcoming people and talking to friends in between bowling."
Meanwhile at Spare Room Saturday night…
Lauren Conrad, BF Kyle Howard and BFF Lo Bosworth were playing Connect Four at one of the the new hot spot's private tables. 
Lo and L.C. were both in short skirts, T-shirts and looking fit 'n' fab, per usual. There were no PDAs between L.C. and Kyle, but we're told the group looked like they were having fun.
—Additional reporting by Aly Weisman