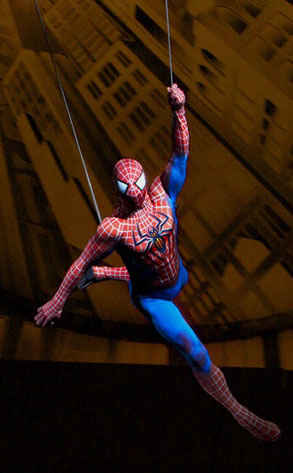 UPDATE 2: Preview performances between April 19 and May 11 have been canceled to allow for rehearsal time and will resume May 12. Opening night is now scheduled for June 14.
UPDATE: Philip William McKinley was announced Thursday as the show's new director, though producers Michael Cohl and Jeremiah Harris said Julie Taymor "is not leaving the creative team."
McKinley previously directed Hugh Jackman on Broadway in The Boy From Oz.
Oh, and the Green Goblin was stuck dangling over the audience for a few minutes during tonight's show. You know, the usual.
________________________________
The director who nurtured Spider-Man: Turn Off the Dark from the script to the stage may be booted off the job. Probably because people have seen what's been happening on the stage.