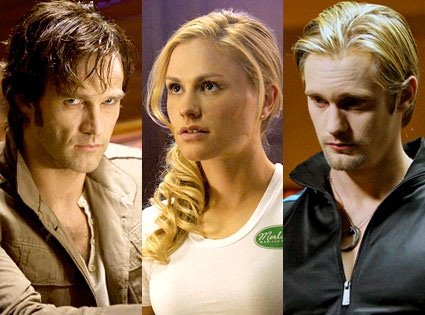 Jamie Trueblood/HBO; John P. Johnson/HBO; Jamie Trueblood/HBO
It's no secret that True Blood's season three was what the sports fans call a "rebuilding year," but the scoop from writers and actors is getting us excited for new episodes. Read on for the dish about hookups, breakups and Bon Temps babies!
Plus, find out who's returning for the Smallville finale now, what's up with the Grey's Anatomy musical episode and what can you expect from the latest Chuck vixen:
andrutap: Supernatural!!!
All we dare tell you is that the final episodes of the season are dark, dark, dark. No more funny meta eps for the duration. Glad? Mad? Hit the comments.
Owen: What can you tell us about the White Collar season finale?
We'll be covering the White Collar Paley event tonight, so we'll be sure to get all the goods on the season ender. We do it for you guys!
RadioPopAction: Has One Tree Hill already filmed its last episode? Will any old characters return?
One Tree Hill has not filmed its last episode yet. In fact, they are filming as we speak type! We're going to have a chat with James Lafferty this week, so we'll make sure to ask if any old characters will be back in Tree Hill for the remainder of the season.
kas383: I love Perfect Couples! Is there any hope for it?
We're not gonna sugarcoat it; Perfect Couples is in the danger zone right now, especially with the casting of Kyle Bornheimer in the new Fox pilot Council of Dads. It's a real shame, because Perfect Couples seems to be hitting its stride lately. But as Justin Bieber croons, never say never, and keep holding out hope for a renewal. Plus, there are still so many more flashbacks to enjoy!
Ventura55: Got any True Blood goodies? Because waiting does really suck!
Let's talk to the man himself, Mr. Alan Ball! When we asked about the many loves of Sookie Stackhouse at the 28th Annual William S. Paley Television Festival event for the show, Ball said, "What Sookie (Anna Paquin) said to Bill (Stephen Moyer) at the end of last season, she meant it, and it's going to take a lot from him to win her back if he ever will, and I don't know if he ever will or not. And there are complications with Eric (Alexander Skarsgård) that she didn't see coming, and there are complications with Alcide (Joe Manganiello) she didn't see coming." Ball also told us that our fave vamps need to keep a watchful eye out for witches, because they're joining the show this year, and they're gonna be trouble. Ball says, "I don't think it's a rule that vampires and witches that don't get along, but there are certain witches who are really dabbling in dark, dark magic, necromancy—powers over the dead. So vampires aren't going to like that." Last but not least, it sounds like poor Rutina Wesley is going to have a little more fun this year. Ball tells us, "It's a new Tara [this season]. It's a less victim-y Tara. Tara has healed her wounds a little bit."
Sherry575: True Blood please.
Expect much angsty awesomeness from Jessica (Deborah Ann Woll) and Hoyt (Jim Parrack) this season! Jim tells us, "We're living together, and when I get home from work I find she's been sleeping all day because she has to, and everybody told us there would be problems, but...Deborah and I said before the season, let's make this decision: Let's say we told ourselves, 'It'll never be us. We'll never be that. Our love is bigger and stronger. And now...life is starting to say otherwise.'" Jim also told us, "I like episode three this season; I get to do a great, great scene in that episode. Alan wrote that episode, and I get this wonderful Tennessee Williams-ish scene." But Ball isn't done with him yet, saying, "Well...[Jim] hasn't even begun. Obviously he hasn't read episode seven or eight yet. Those are major. It's not as easy being a couple as perhaps they thought."
alisonwallace: True Blood scoop!
We're not feeling so Rosemary's Baby about Arlene's (Carrie Preston) whole pregnancy after talking to Alan Ball. We asked him if Arlene had been impregnated with a demon seed, and Ball said, "I can't tell you yes or no, but there is certainly concern that it might be, and it certainly looks like it might be." And Todd Lowe says, "I don't know if it's devil babies…It's babies. Neonatal, strange, possibly possessed human babies." But here's the thing—as any new mom can tell you, normal human babies behave just like possessed babies, what with the endless screaming and the projectile vomiting. Arlene's probably in the clear, she just won't know it for a while.
cathy_massiel: Anything about the Grey's Anatomy musical episode?
We caught up with Grey's star Chandra Wilson at the NAACP Awards this weekend, and she told us, "It's Mar. 31, and we call it a music episode rather than musical episode, because it's the classic music of Grey's Anatomy—we just bring it to life through the voices of the characters already on the show, so you guys have to judge for yourself. We do it in a really interesting way." And whose voice is the best? Chandra declined to play favorites, saying, "We've got rock stars all over the place really, you know I think I'm going to let you guys be surprised by it because if I say it's so-and-so it's going to ruin it." But show runner Shonda Rhimes was willing to name names, saying, "Sara Ramirez. Honestly, [she won a] Tony on Broadway. Yeah, Sara Ramirez, hands down. But there are really some surprisingly amazing voices on our cast so it's really great to see." P.S. If you have any questions for Grey's Anatomy star Kevin McKidd, email us at tvdiva@eonline.com; we're talking to him tomorrow, and we'll try to get you the scoop.
TheDylanWinter: Please tell me that Chloe will be back for the series finale of Smallville?
Yes, it's true, Chloe will be back for the series finale of Smallville. Woot!
PrincessAurorra: Parenthood?
Amber (Mae Whitman) doesn't get into any schools, and Sarah (Lauren Graham) actually gets a break as a playwright. It was the best of times for the lady Bravermans, it was the worst of times…
Nina: Got anything on Mags Bennett in Justified?
Besides her being deliciously evil? You betcha! Mags' (Margo Martindale) relationship with Loretta (Kaitlyn Dever) is going to get complicated, more complicated than murdering Loretta's dear old dad. Showrunner Graham Yost tells us, "That's something that explodes the second half of the season. Mags and Loretta, I'll just say that's a huge part of this season."
leslie97193: Quinn and Puck are perfect for each other. Why have the writers ignored them this season?
If only we were flies on the wall of the Glee writer's room, then we would totally answer that question. Alas, we are not. And it probably won't make you feel better to hear that this whole Finn (Corey Monteith) and Quinn (Dianna Agron) reunion tour mess isn't over yet, huh? Don't shoot the Glee messenger!
SophieYan:  What happened to Cheyenne Jackson's character on Glee?
From the Department of Completely Unconfirmed but Plausible and Fun Rumors That We Can't Not Share: A source tells us that Gwyneth Paltrow's Holly Holliday ditches Matthew Morrison's Will Schuester in favor of Vocal Adrenaline coach Dustin Goolsby (Cheyenne Jackson). Man, this has been a tough year for Mr. Schue in the romance department!
Tracy: OMG. I can't believe it's already time for the Southland season finale. Scoop please!
We don't want to oversell it but the Southland season finale is amazing! We cried, we shrieked with delight, we were on the edge of our seats. It is truly a satisfying end to the emotional season and paves the way for a really unique change in partners. Purely for selfish reasons we want you to watch it, and tell five friends to watch. We need a season four!
Lauren: Chuck intel, por favor!
Zachary Levi was gracious enough to give us the goods on how much trouble Lauren Cohan will be causing. "We're going to get some super secret weapon component," he tells us. "Then [Vivian] shows up unexpectedly and all hell breaks loose and Bob's your uncle." Sidenote, when was the last time you heard someone use the phrase "Bob's your uncle?" Keep being you, Zach.
Heather_r_Flynn: How does a season five for Chuck look?
Always on the bubble, never above it. Beyond it? Off it? Whatever, we're counting on a season five of Chuck, and the cast seems very optimistic about it as well. "I think [the chances] are pretty good," Yvonne Strahovski says. "I will be surprised if we don't get a season five." Adam Baldwin dittos his costar's hopeful attitude. "I feel cautiously optimistic. Until you hear the go sign, I just remain cautiously optimistic." Give us that go sign already, NBC!
Skippy9474: Anything about Hawaii Five-0?
Episode 21 of Hawaii Five-0 takes full advantage of the Hawaiian scenery, when the photographer shooting this year's (fictional) edition of the Sports Illustrated Swimsuit Issue is murdered. Naturally, Five-0 lands the case. Look for extra helpings of half-naked ladies in this ep. Any complaints? Nope, we didn't think so.
mattcail: Any hints on the season finale of Criminal Minds?
Criminal Minds star Rachel Nichols, who plays the newest member of the BAU team, Ashley Seaver, tells us, "Oh god, we're on episode 20 right now; the season finale would be episode 23 or 24...I don't even know what's going to happen. There is a very exciting episode coming up that Matthew [Gray Gubler] directed. He directed two episodes. He directed episode 19 of this season and one in a prior season, and he is fantastic as a director...I believe the episode was called 'Lauren,' and that's my favorite episode we've shot so far...it's not the season finale, but they do a really good job with the subject material in that episode and that's all I am going to say. Fans will not be disappointed." (Can't wait.) BTW, in case you missed it, Nichols and Gubler joined forced to gently crush your dreams of a Reid-Seaver hookup. Sorry.
Moises De Pena/WireImage.com
Rhonda in Temecula, Calif.: Any scoop on Bethenny Frankel and her latest show, Bethenny Ever After? I like it better than last season's Bethenny Getting Married.
So does Bethenny! The former Real Housewives star told us, "I loved last season, and I am so proud of the show, but I like this season more because it is really into the nitty-gritty of our lives. We talk about in-laws and hot topics like religion and turning 40, and my whole entire family travels with me on my speaking tour, and the stress of whether we're going to move to L.A. or not, so it's definitely chock-full." Bethenny and hubby Jason already have the perfect storyline for the show's third season: another baby! "Jason had a brother who he lost and I think that he just really wants Bryn to have a sibling," Bethenny told us. "And I love it so much that I don't want the baby stage to end, so I would love to do it again."
Erik in Denver: Did The Amazing Race's medical team force Mike and Mel White to abandon the race?
"Michael pulled me out," Mel told us today about the lovable father-son duo's early departure from TAR, "but once medical checked us out they realized they should've pulled us—we both had hypothermia." But Mel doesn't blame TAR: "The producers don't want to hurt us," he said about last night's freezing mud challenge. "They just didn't know that some of us would be there in the dark and the few frogs that were left would be all trampled down and we'd have to stay so long." Mel himself was oblivious to his own suffering: "I had no idea how long I'd been out there [but Mike] could see I was shaking uncontrollably and insisted I come out. He was really afraid for his dad." Aw. Even though he's out of TAR, Mike is hard at work on his new HBO comedy series Enlightened, starring Laura Dern and Luke Wilson.
—Reporting by Jennifer Arrow, Jenna Mullins, Dru Moorhouse & Christina Dowling
(Originally published March 7, 2011, at 6:04 p.m. PT)