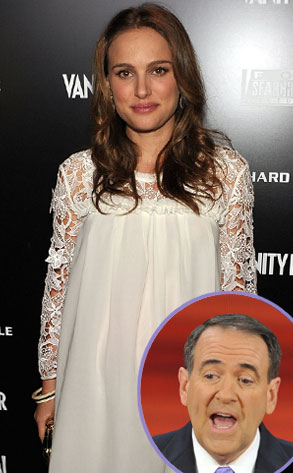 John Shearer/Getty Images; PAUL J. RICHARDS/AFP/Getty Images
You diss a pregnant woman, you're gonna be taken to task. Ditto if you dare say a bad word about America's reigning sweetheart. Or the newly crowned Oscar winner. And if you should err so badly that you somehow manage to slam the one woman who encompasses all those things at once…well, your name is probably Mike Huckabee.
After blasting Natalie Portman for supposedly glamorizing and glorifying single motherhood (never mind that she has a committed fiancé in Benjamin Millepied) and sending a "troubling" and "distorted" message to our nation's youth, the former Republican governor of Arkansas is in full backtrack mode.