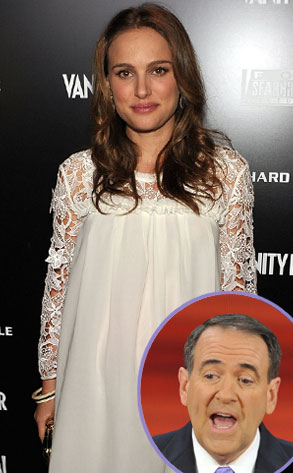 John Shearer/Getty Images; PAUL J. RICHARDS/AFP/Getty Images
Mike Huckabee talked about Natalie Portman on the radio this week, but it wasn't to congratulate her on the Oscar win.
The former Arkansas governor and possible GOP presidential candidate in 2012 instead rolled the celebrity dice and used Portman as an example of the "distorted image" Hollywood supposedly provides of single motherhood.
To be fair, conservative talk radio host Michael Medved brought up the "visibly pregnant" Black Swan star and the "problematic message" she's sending. But Huckabee, ever the politician, took the ball and ran with it...