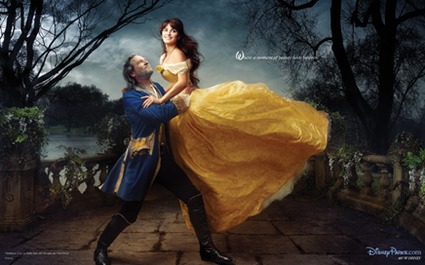 Annie Leibovitz/Disney Parks
She may be married to Señor Hottie Javier Bardem, but Jeff Bridges has swept Penélope Cruz off her feet.
The Oscar winners are two of the celebs featured in photographer Annie Leibowitz's latest portfolio of Hollywood stars decked out as Disney characters.
In the tableau above, Cruz portrays Belle from Beauty and the Beast, and Bridges is the the Dude, er, Beast post-transformation back into his studly prince self.
But wait till you see who's staring out from the evil queen's magic mirror...
Alec Baldwin is busy dashing Olivia Wilde's hopes of being the fairest in all the land in Leibowitz's take on Snow White.
"I've wanted to work with Annie my entire career," said Wilde. "I was overwhelmed when I heard I could have this chance. This is such a great idea, to pair some of the most iconic characters from all our childhoods with the photographer who is so good at capturing icons, and that's why I think this Disney-Leibovitz collaboration works so well together."
Annie Leibovitz/Disney Parks
That, and it's just superfun.
Rounding out the collection is Queen Latifah as The Little Mermaid's villainous Ursula, who in no way feels like a poor, unfortunate soul.
"Villains get to have all the fun!" Latifah exclaimed.
Annie Leibovitz/Disney Parks
Hard copies of Leibowitz's "Disney Dream Portraits" will appear in the next issues of O, People, In Style, Real Simple, Essence and People en Español.