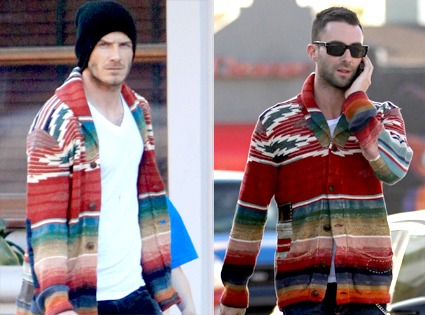 Dome, Monterotti/PacificCoastNews.com; WENN
This Hollywood hipster moment is brought to you courtesy of the good old Southwest.
David Beckham and Adam Levine both stepped out in identical Navajo-style sweaters last month. Both men paired the colorful Ralph Lauren RRL item with jeans, a white T-shirt and requisite celebrity stubble but added their own finishing touches.
Becks, who was out shopping with Brooklyn at the time, wore his look with a black skull cap. Adam accessorized on his outing with dark shades and a wallet chain.
So who steals the style spotlight, the soccer stud or the Maroon 5 singer? Weigh in below!