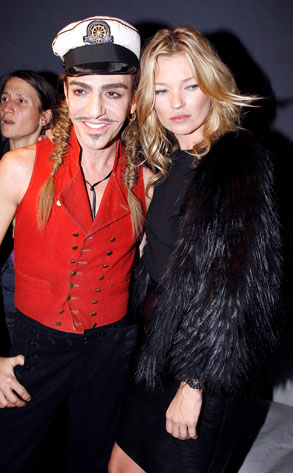 Eric Ryan/Getty Images
Got a drug problem? Please, who doesn't. Have a penchant for hurling cell phones at the help? Hey, what you do in your own time…But pull a Mel Gibson and utter heinous anti-Semitic remarks on multiple occasions (and, in a final damning move, on camera)? Well, even the fashion world has its standards.
Freshly fired Christian Dior head designer John Galliano is learning that his overt displays of alcohol-fueled racism may be indefensible to the majority of the world, but a few of his sartorial besties are sticking by the fashionisto. Celeb pals Kate Moss and Naomi Campbell, who know from unsavory behavior, are said to be urging their designing pal to enter into a rehab program.
Because it's the drinking that's the problem, right? Not the underlying racism? Still, when Moss and Campbell say you've got issues, you'd be wise to listen. And Galliano, reportedly, is doing just that.