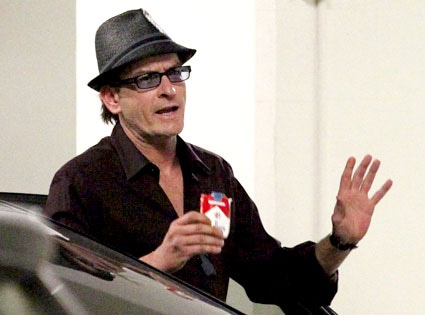 Fame Pictures
Incoming from Charlie Sheen's brain! As of this afternoon, the currently clean actor tells us he's enjoying his stay at the "Sober Valley Lodge" (aka his house), he may release a cologne and he wants to hang with Oscar host James Franco.
Let us explain. E! News talked to Sheen today about the latest developments in his verbal war with Two and a Half Men creator Chuck Lorre and the conversation led to, well, goddesses, Franco, clowns, Everybody Loves Raymond, Sheen's kids and his bank account.
And Charlie sure delivered some awesome sound bites.
First Sheen wants to clear up the reason he's planning on suing CBS and Warner Bros. Television after they shut down the show for the season. He says he's not going after them because they caused him "mental anguish," he's suing because he wants his money for the eight episodes that were ordered but ultimately scrapped. (For those keeping score at home, four were cut when Sheen initially left in January to begin his at-home rehab; the final four were nixed following his multiple radio tirades last week.)
"These fools are so predictable. I'm suing for front end and back end and want them to get out of my personal life," he tells us. "For eight years they were control freaks. Look at what a guy, me, delivers. I don't roll with amateurs. If you wanna stay up till Christmas partying, you've got to work. They're complete pussies."
Then it's on to now ex-boss Lorre. Sheen calls Lorre a "retarded zombie" who should have been axed by network head Les Moonves long ago.
"The fact Les didn't fire him is unbelievable," Sheen tells us. "He needs to fire this clown. They're not going with my plan, my plan is the best in the world. They all get slaughtered if they don't follow my plan."
Sheen says that he recognizes that his show became popular because it originally ran following Everybody Loves Raymond. 
"Now the two shows they are in love with, Mike & Molly and Geek Squad [The Big Bang Theory] are gonna explode like they were hit like a Japanese torpedo," he says. "My show launched Geek Squad and Mike just like Raymond was the reason we are a hit—we have an audience because of that. Dancing With the Stars will unravel their lineup now."
Sheen says all he wanted was a little "respect" for making Two and a Half Men a hit, and that the producers don't understand him and his approach.
"Thay can't hang with me, their bones would melt like wax," Sheen says.
He says he thinks he's been left in the cold by CBS and Warners after Lorre tried to force Sheen into a mea culpa that he wouldn't deliver.
"I have been completely abandoned by CBS, by Warner, my path is clear," Sheen said. 
Reps for CBS, Warner Bros. and Lorre declined to comment on Sheen's remarks—chances are, they don't know where to begin. Right, Charlie?
"Chuck was on his way out and this is the gratitude I get, him up in my grill," Sheen says. "He tried to impose his silly ideas on me, he told me I need to make a big announcement to everyone and apologize for the dark cloud I brought to the show. I said, 'Get out of my face with your corduroys.' "
Now the sitcom star hopes costar Jon Cryer will follow his lead and file his own lawsuit against the network for halting production on Two and a Half Men. But, Sheen says, he hasn't spoken to Cryer or anyone else from the show since it was pulled.
He says he has been fielding offers for movies and books and may "do a cologne." But for now, he's spending his days at home with his "goddesses" and his twin sons with Brooke Mueller, Max and Bob. The boys turn 2 this month.
"The babies live with me, they're in the kitchen right now," he says. "They run around and they're as fun as you can imagine. They say 'Dada' and run into walls. And Dada is cool, but when they run into walls I say, 'Don't do that, that's retarded.' "
He's nicknamed his L.A. manse the "Sober Valley Lodge" and says it's filled with "babes and victories and children."
"Here nobody panics and nobody dies," he says. 
As for the partying, the porn and the drugs, Sheen says it's "there if I decide to go back to it."
"What's not to like?" he says about living so hard. "I see things in a different way. Sometimes life is boring and I've got to make it exciting."
As for the various porn stars who have spilled details of his private life, he says they're no longer welcome at his house.
"The door is closed to those trolls," he tells us. "I'm going to hang onto and worship and make sure my goddeses are loved. Now it's me and Natty [Natalie Kenly] and Rachel [Oberlin, aka X-rated star Bree Olson]. They're good and decent."
He won't be returning for a new season of Two and a Half Men in the fall, he says, unless some "radical changes" occur.
"I'll do a cologne and a book, I'll do a movie, I got people lunging at me," he says. "I've never been in trouble [financially]. Something will fall out of the sky, I don't believe in panic."
And one person who hasn't abandoned him? Ex-wife Denise Richards.
"We speak every day," he says. "Have you seen her? She's hot as s--t."
As for the other ex-wife, Mueller, they haven't communicated since falling out during last week's Bahamian vacation. Mueller had been temporarily residing at Sober Valley Lodge while Sheen bought a new home in the neighborhood, but after last week, she is no longer staying there.
"That woman only lies when she speaks," he says. "All I'm coming at is the truth."
Before saying goodbye, we let Sheen know he's been so entertaining these last few days he should have hosted the Oscars. But he says that's not going to happen.
Says Sheen: "I'd rather just hang with Franco."
Now there's a duo that would make your head explode.