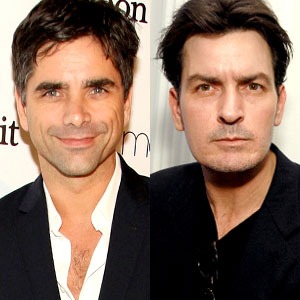 Bryan Bedder/Getty Images for Bon Appetit; John Sciulli/WireImage
While Charlie Sheen was on a press tour this weekend, CBS' top boss man was on a quest to save Two and a Half Men.
I just got word that Les Moonves had a nice chat with John Stamos on Saturday about replacing Sheen on the hit sitcom.
Really? Here's what went down...
Sources exclusively tell me that Moonves approached Stamos at Jeffrey Katzenberg's Night Before benefit at the Beverly Hills Hotel.
"They were at the bar talking and Les asked John if he'd be interested in replacing Charlie," one source says. "It wouldn't be to play Charlie's character but they talked more about introducing a new character."
There were rumors early last week that Stamos was in talks to take over for Sheen, but Stamos tweeted on Friday, "Contrary to the rumors, I am not replacing Charlie Sheen on Two and a Half Men. however, Martin Sheen has asked me to be his son."
I'm told the conversation between the Moonves and Stamos lasted for about 15 minutes. It's unclear if more formal conversations are set to take place, but a source reports that Moonves' talk-show cohost wife Julie Chen and Paramount Pictures CEO Brad Grey piped in, too. "They were all for it," the source said. "They were saying how they think it could definitely work."
Reps for CBS and Stamos did not immediately comment.
Now, it's your turn. Stamos on Two and a Half Men? Sound off below.