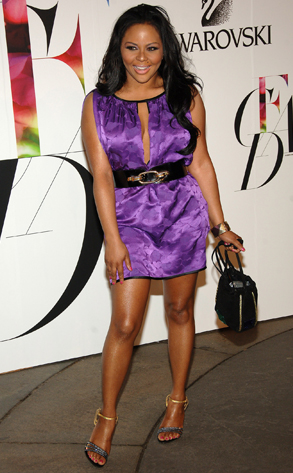 Jamie McCarthy/WireImage.com
All didn't end well at Lil' Kim's 34th birthday party.
An employee at a New York karaoke bar where a B-day blowout for the rapper was held Sunday night has been arrested after confessing that he beat a 24-year-old woman to death on the roof of the club while the party was taking place inside.
Syed Rahman, 24, admitted to bashing Ingrid Rivera, who had paid for entry to Kim's party, over the head with a pipe early Monday morning, Police Commissioner Raymond Kelly said at a news conference Thursday. Her body wasn't found until Wednesday afternoon.
According to police, Rivera was a Lil' Kim fan who arrived at Spotlight Live in Times Square at about 9:30 p.m., toting a bouquet of flowers for the artist and hoping to get a face-to-face meeting.
Lil' Kim's spokesman, Ronn Torossian, said in a statement today that they first heard about the killing Wednesday night. It's unclear whether the "Magic Stick" MC was at the party when Rivera died.
A friend of the victim who had been with her that night told police that she had fought off Rahman's advances that night. They both had chatted with the suspect at the bar earlier in the evening.
The witness said that Rivera, who worked as a customer-service agent at JFK International Airport, was at one point kicked out of the club for accidentally going into the men's room and that Rahman lured her up to the roof by telling her he had a way to sneak her back in. He also tried to get the friend to go, but she refused.
At approximately 2:45 a.m., he killed Rivera in a utility shed atop the Spotlight Live and left the venue about 15 minute later, police said. Authorities went looking for her after her mother reported her missing.
"We are shocked by this terrible tragedy and our hearts go out to Ingrid Rivera's family and friends. We are grateful to the New York Police Department for arresting a suspect in this crime," read a statement issued Thursday by Spotlight Live. "We continue to cooperate with police and answer any questions they may have."
Rahman, who had worked at the club for four years, has been booked on suspicion of second-degree murder, which carries a maximum penalty of life in prison.