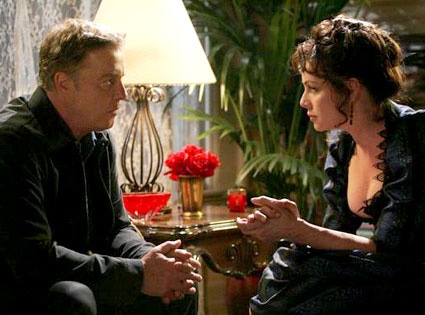 CBS
We were just minding our own business, chatting up Melinda Clarke about her role on Nikita, when we casually mentioned our love of her iconic role as dominatrix/single mother extraordinaire Lady Heather on CBS' CSI: Crime Scene Investigation. To which Clarke responded, like it was nothing, "It hasn't happened yet, but I'm scheduled to shoot another CSI in a few weeks."
Wait, for real? Tell us more! In fact, tell us if these scenes will be opposite William Petersen's Gil Grissom:
"Unfortunately, no," says Clarke, when asked if Heather's return involves a Heather-Gil reunion. "But fortunately I think the storyline's pretty interesting." No doubt!
And to put a cherry on top of this TV sundae, CBS just confirmed to us that Lady Heather will indeed be back to CSI! Her episode is entitled "Unleashed," and it airs in April. We know, it's so far away.
Meanwhile, what's to come for Clarke's Nikita character, the wily Amanda? Tomorrow night's episode is a huge one for Amanda, and she tells us, "Keep an eye out for Amanda's last scene. After everything that Alex [Lyndsy Fonseca] and I go through in the episode—I think it's an extreme situation, but it'll be surprising at moments—right now Amanda's really about the mind and not physical abuse, but keep your eye out for the last scene. It's interesting." 
Are you excited for more Lady Heather? What do you think of Amanda on Nikita?
Nikita airs Thursdays at 9 p.m. on the CW.
(Originally published Feb. 23, 2010, at 3 p.m. PT)