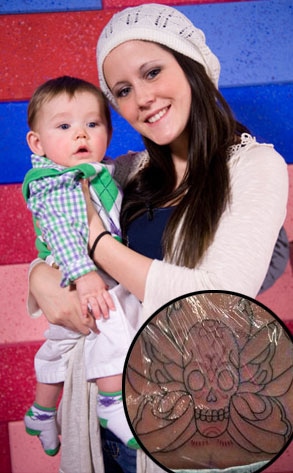 Scott Gries/MTV.com
Not having a boyfriend right now, Jenelle Evans took Valentine's Day matters into her own hands. Or torso.
"Getting tatted up :) straight chillin. singleeeeee :P," the Teen Mom 2 star tweeted on Monday, later posting a photo of her new skull-faced-butterfly-with-heart-shaped-nose tattoo on her Facebook fan page.
A friend of the reality star's told E! News that she got the tat "to symbolize tha new freedom and new chapter" in her life in the wake of her split.
Earlier in the day, the mother of year-old Jace had apologized to Dr. Drew Pinsky for going off at the Teen Mom 2 reunion taping in L.A. (Though things couldn't have been too bad, because afterward she was asking fellow young mums Cheslea Houska and Kailyn Lowry to send her the pictures they all took together.)
"Sry I spazed out on stage at everyone lol I was mad," she tweeted to the Celebrity Rehab doc. When he inquired about how she was handling her breakup with her alleged partner-in-crime Kieffer Delp, she replied, "Yes everything is so much better today hopefully haven't talked to kieffer either :) I'm on a role haha."
—Reporting by Katie Rhames