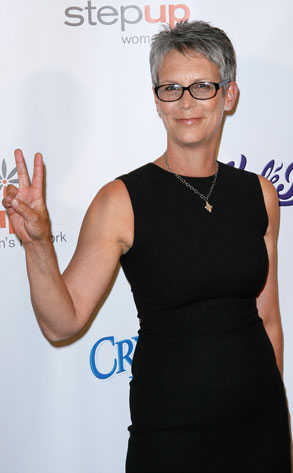 AP Photo/Gus Ruelas
Jamie Lee Curtis is trying to do for overcoming drug addiction what she did for aging gracefully—namely, take away its shame.
The 49-year-old actress has spoken out for the first time about her addiction to painkillers, taking her struggle to More nearly 10 years after conquering her battle with the prescription bottle.
Curtis told the magazine she became dependent on painkillers when she was 35 years old, after being prescribed a dose after undergoing some minor cosmetic surgery. She soon supplemented the pills with booze.
"No one knew," she said, including her comedy legend hubby Christopher Guest. "Chris didn't have a clue."
Per excerpts in the New York Daily News and Britain's Daily Mail, Curtis told More she abused drugs in order to ward off feelings of loneliness and—Hollywood's cardinal sin—unattractiveness.
"I attempted various types of plastic surgery, minutely but enough to stave off this encroaching middle-aged body," she said, adding that her first time under the knife came after a cameraman told her she was developing bags under her eyes.
"And everytime I did, something went wrong. I felt misshapen, just not natural anymore. I think it was a big stimulator of my drug abuse...I'd anesthetize myself on a daily basis."
Curtis told the magazine she attempted to reveal her battle to her sister Kelly in a letter, but she never ended up sending it. Her sister was staying at her home while recovering from a broken bone, and Curtis found herself stealing painkillers from her sibling.
Ultimately, however, Curtis said she made the decision to become clean nine years ago for the sake of daughter Annie, now 21.
She has since worked on several antidrug campaigns and currently serves as a volunteer counselor.