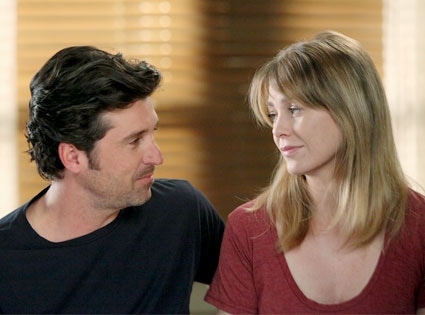 ABC/DANNY FELD
The highly anticipated Grey's Anatomy musical episode is around the corner, but we're still waiting to hear which stars will be singing and which will stay mum. However, since we just caught up with McDreamy (Patrick Dempsey) himself, we're sharing scoop on whose voices you'll hear, plus what's in store for Meredith and Derek this season as they continue their efforts to make a McBaby.
Plus, where are the True Blood castmembers hanging out these days? And what's in store for Kurt and Blaine on Glee? Get the latest TV scoop right here:
Felicia: I'm loving Caroline on The Vampire Diaries. What's coming up for her?
By now you've probably seen the photo of Caroline up on stage with a mic preparing to rock out. But did you know that Candice Accola is a legit singer? She even recorded with Tommy Lee once! No need to dub a different voice over Candice's, and we can't wait to hear her pipes this week.
Davi31 (via Twitter): Is there a musical ep of Grey's?!
There sure is! We just talked to Patrick Dempsey at the Avon 125th anniversary event here in Los Angeles (his wife is an executive at the company), and he shared a little about the upcoming musical ep; apparently the actual singing might be restricted to just a few key characters. Dempsey told us, "I don't sing...Sara Ramirez has got a great voice. Kevin McKidd's got a great voice. They're really carrying that episode, and I think they do a phenomenal job. Eric Dane is like Robert Goulet—really funny, really great voice. There are a lot of good, talented triple-threats on the show."
Kaylee: Is it true that Meredith is going to have to choose between blindness and a baby this season on Grey's Anatomy?
No worries. According to Dempsey, "Meredith (Ellen Pompeo) has a little bit of an issue because the [fertility] meds are a bit too strong for her, but she's going to be fine, she's not going blind—she needs to see."
hellojojo123 (via Twitter): What is in store for Mer-Der on Grey's Anatomy in the future episodes?
Dempsey summarizes the whole rest of the season series for you, with a laugh: "It's a melodrama—[Meredith and Derek] do the best that they can, and they cry and they fight." Yup!
Penny: I'm so upset about Mark and Lexie breaking up again. They're my favorite couple. Any chance they'll get back together.
We refer you to no less an authority than Shonda Rhimes on the prospects for future Mark-Lexie love. In case you missed it, she tweeted, "Mark/Lexie fans: I know you are stressing out. But just wait for it. It's gonna be a painful wait but I think it will be well worth it." See, now don't we all feel better?
Radames125470 (via Twitter): My birthday was yesterday and as a gift I would like some great scoopage on Wemma from Glee please, pertaining to jealous Emma?
Happy birthday! Here's your present: If you have been hurting over the lack of Emma lately, the next couple episodes might just make up for it. Prepare for lots of Will-Emma scenes. Oh, and Sue will be around a lot too, in case you were missing Coach Sylvester as well. And we know you were!
xoxJessie19xox (via Twitter) Glee scoop!
Do you know what boys like? Lauren sure does. And she'll prove it in tomorrow's episode. In a couple ways, in fact.
sportschick2624 (via Twitter): Anything Klaine related. Please and thank you!
The Glee Valentine's Day episode put a lot of hope in the hearts of Kurt-Blaine fans, but in a recent interview in Out magazine, Ryan Murphy revealed that Blaine will "openly question whether bisexuality is real." Sounds like Kurt might have competition on both sides of the playing field. Not only that, but Mr. Murphy says it's his "job as showrunner to keep them apart as long as possible." Bummer city. But to make up for it, check out the photo shoot Darren did for the mag. Spoiler alert: he's soaking wet in a lot of them. Yowza.
Letitgo13 (via Twitter): Talk to us about Robert Sean Leonard's future with House. Scoop it up, please!
Consider that matter scooped! 
Krisena: True Blood? I miss that show so much!
Someone's taking a trip to fairyland! Insiders tell us the show is now shooting scenes in a stage decorated with twinkle lights and greenery that's being populated with beautiful men and women in gold body paint and robes. We're wondering if the fairy folk get as orgy-tastic as the maenad's followers once did? Meanwhile, if you have questions for True Blood executive producer Alan Ball about season four, email us at tvdiva@eonline.com; we're hoping to speak with him at an upcoming event!
Kelly in Philadelphia: Is there anything fans of our Olivia and Peter to look forward to on Fringe?
Oh, yes. For one thing, executive producer J.H. Wyman says that when Olivia finds out that Fauxlivia is pregnant, "It will not unfold in a way that I think is traditional...I think that people should be prepared for that." And for another thing, our Olivia will soon learn that Peter has been assassinating shapeshifters and why. According to Wyman, "Peter let go of a certain amount of control in his life to be a part of this family...and then realized he's in the nucleus of this entire thing that's happening. He doesn't have any answers, and this season was always going to be a season about self-actualization for a lot of the characters. So this is the beginning of those steps." If you ask us, the reason Peter's getting all proactive is to protect the family he's established with Walter, Olivia, et al., and we love it!
Quantrell D. Colbert/The CW
Leigh: Nothing good can come from Jonathan Gilbert being around. What's up with his return on The Vampire Diaries?
One thing is for sure: he'll definitely be complicating Jeremy's life. "He's family. He knows more about my father than I know," Steven R. McQueen tells us. "So I'm torn in two directions. One: that I'm still curious about my family and I want to know more about my father. But also I'm pissed off at him because he complicated my life in so many ways." Steven also told us that his character will be all up in everyone's business. "I think Jeremy is pissing everyone off," he laughs. "He comes from this dark place, and it's interesting to see that change in Jeremy." Ominous, no?
Kelly: Great Ian Somerhalder post! Is there any hope for a happy Damon?
Not if the powers that be over at TVD have anything to do with it. "I remember when Damon started to steal a little too much and I remember talking to Kevin [Williamson] and Julie [Plec] saying, 'You know, I'd really like to go back to the Damon I am comfortable with,' " Ian tells us. "And their response was, 'What are you talking about? Life does not want you to be comfortable. You don't know what's around the next corner. You don't get to pick and choose what life throws at you and how you feel about it.' And I realized, 'Wow, you're right.'" It's a good thing he came to that realization, because life is about to throw a lot at Damon.
Katie-CO: I am a big fan of Dan/Blair on Gossip Girl. Any chance for a budding romance, for these two reluctant friends?
Oh yes, there is hope indeed for these two, as evidenced by this spoiler still. Yep, Blair Waldorf is going to Brooklyn, where she canoodles with Dan in his loft. She wouldn't cross the bridge for just anyone, right?
chrliesangel (via Twitter): Supernatural, please.
Sam and Dean hafta go to the Wild West to track down a weapon (the Colt, yes?) that could kill that Mother of All be-yatch.
KatieAwerkamp (via Twitter): Scoop on One Tree Hill's James Lafferty and all about when he is going to propose to me.
I'm sure he's going to pop the question any day now. Fingers crossed! But in Tree Hill world, Nathan will be much too busy dealing with a wife who is nearing the crazytown station, as she prepares for the arrival for the second baby in the James-Scott household. Seriously, it'll be a whirlwind of crazy mother-to-be situations. 
supervegeta121: Since Hilarie Burton is now working full-time on White Collar, there is zero chance for her coming back to One Tree Hill, right?
A source says that Hilarie Burton is "probably not coming back" to One Tree Hill, but probably is not definitely, so let's hear it for faint hope!
Mike: Troy's my favorite on Community, what's he up to this week?
Would you believe us if we told you Troy (Donald Glover) is sobbing in a hospital bathroom, singing the Reading Rainbow theme song, while his idol LeVar Burton sits outside in the waiting room? It's hilarious, and it's all part of Pierce's evil "deathbed" plan to leave parting emotional scars on the group.
LucPoz88 (via Twitter): Brothers & Sisters!
Producers are now casting for actors to play Nora (Sally Field), William (Tom Skeritt) and Brody (Beau Bridges) in flashback. Nora and Brody were teenagers as this love triangle got underway—but William was 30. Kinda skeevy, no?
Joan: How's baby-making coming for Joel and Julia on Parenthood?
Timing is everything, and Julia (Erika Christensen) is carefully monitoring her ovulation. Unfortunately the perfect time to conceive might be at Max's big bug birthday bash. Uh-oh. What's an amorous couple on a tight schedule to do? Get down and dirty at a G-rated party of course! 
Lauren: Big Bang Theory romance scoop?
If you were Wolowitz and you had to choose between Bernadette and your mother...who would you choose? Such is the predicament in this week's episode. Plus, Leonard does some romancing of his own. And not with Penny, so extinguish that spark of hope, mmmkay?
agusandy (via Twitter): How I Met Your Mother please! Love the show.
Now that Ted and Zoey are finally together, everything is smooth sailing from here on out. But you don't believe that, do you? As expected, Zoey's ex-hubby (Kyle MacLachlan) will be popping up to cause problems for the new couple. Plus, Barney and Robin get into it regarding his Valentine's Day past...but it's not for the reasons you think.
Bmorekitten (via Twitter): Anything new on Blue Bloods or Donnie Wahlberg's character Danny Reagan?
After someone attempts to assassinate Frank (Tom Selleck), Danny goes on the hunt for the shooter in an attempt to find out if it was a random shooting...or something worse. In short, Danny might be kicking some doors in.
George: Hawaii Five-O, if you please.
Dane Cook's guest appearance is coming up. If you're a fan of his comedy, you'll be happy to see he's playing a version of himself. Just add Wall Street. His character is Danny's (Scott Caan) little bro, and unfortunately he's not just in town for a family reunion. Oh, and there's a bomber on the loose. Just another day on the island.
Catherine: Any scoop on Justified?
Don't miss our exclusive chat with show runner Graham Yost. In other news, a major character, a "good guy" you've loved since season one, bites the dust in a dramatic way before the end of this season. Raylan (Timothy Olyphant) is going to freak out, and you will, too.
Courtney in Portland, Ore.: Given how the most recent episode of Lights Out ended, please tell me that Patrick will reconcile with Theresa before this season is over. Thanks!
Don't you worry about Patrick and Theresa. Those two have their rough patches but they'll do anything for each other. Before the end of the season, look for Theresa to get into a fight of her own when she faces off with another boxer's wife.
Karen: Fairly Legal is my new favorite show. Share some tidbits?
Sharing is caring, and it is Valentine's Day after all! The next case for Kate (Sarah Shahi) is also V-Day themed, when a husband and a wife butt heads after a near-fatal truck accident. It takes the term "marital spat" to a whole new level.
Jenni: Happy V-Day! Any Royal Pains intel?
Evan (Paulo Costanzo) finds out the truth behind Paige (Brooke D'Orsay) and her inability to spend the night. Meanwhile, Hank (Mark Feuerstein) looks into a real high-strung and high-style medical mystery.
@nataliedewar (via Twitter): Private Practice chat!  
Well, it seems like 16 & Pregnant and Teen Mom are still in the zeitgeist; Private Practice is doing an episode about three young women who make a pact to get pregnant simultaneously so they can be recognizable and special. Ahem. To any of you youngsters considering such a stunt, we must refer you to this classic Swedish TV commercial:
—Reporting by Jennifer Arrow, Jenna Mullins and Christina Dowling