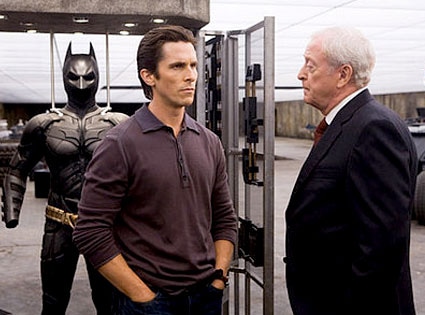 Warner Bros.
Michael Caine has a thing for Cars. And did we mention the Batmobile?
Turning up at New York's annual Toy Fair, the Oscar-winning British actor spoke to E! News exclusively about reprising his part as Alfred the Butler in the hotly anticipated Batman sequel The Dark Knight Rises, 'tooning up for Pixar's upcoming Cars 2, and admiring...well, Michael Caine.
We'll explain that last one in a minute. But here's what he had to say about the latest Batflick...
Caine said he's excited to reteam with Christian Bale and the rest of the Gotham denizens for the final installment of Christopher Nolan's Caped Crusader trilogy.
"I talked to Chris last week 'cause I said I hadn't gotten a script and he said, 'I haven't finished it.' And he said, 'I'll finish it in two weeks,' " Caine said, noting the helmer's penchant for secrecy surrounding his follow-up to 2008's The Dark Knight.
Caine was also ecstatic of word that his Inception costar Marion Cotillard may join the cast of TDKR when shooting gets under way this June at Elstree Studios in London.
"Marion Cotillard is in it? Nobody tells me these things," the 77-year-old thesp said. "Oh shoot. I didn't know. Well, Anne Hathaway is Catwoman isn't she? Well that's fabulous. Tom Hardy is gonna be great too [as Batman nemesis Bane]. He's a tough British actor."
Caine was on hand with Emily Mortimer (Match Point, Shutter Island) for a panel discussion to plug the latest animated offering from Pixar mastermind John Lassetter, a sequel to his 2006 mega-hit involving talking autos, which translate well into toys.
As part of today's lavish affair thrown by Disney, toy buyers got a sneak peak of the Cars 2 line featuring updated versions the original's classic characters, who get caught in a North by Northwest-inspired spy caper revolving around the World Grand Prix, along with several new vehicles due out in time for the film's June 24 opening.
Among those on display: spy-in-training Holley Shiftwell (voiced by Mortimer), Lightning McQueen's Italian racing rival Francesco Bernoulli (John Turturro), former oil baron-turned-electric car Miles Axelrod (Eddie Izzard) and British secret agent Finn McMissile—a fitting part for Caine who once played a spy in 1965's The Ipcress Files.
"That's what attracted me was being in a spy movie," Caine told E! News. "I'll tell you what else attracted me is his name, Finn McMissile. It sounds like he's going to get into trouble. He can get into a little trouble, you know."
Unlike the late, great Paul Newman, who played Doc Hudson, the Fabulous Hudson Hornet in Cars, and was a race car driver in real life (and, alas, whose car won't appear in the sequel), Caine confessed that he signed up for the flick more so his grandchildren could actually see him in an age-appropriate film.
"I'm not a very good driver," he quipped. "But you see, I don't have to drive cause I am a car. That's the way I get around it."
And finally, the erstwhile Dirty Rotten Scoundrel also gave us his review of that famous "Dueling Michael Caines" bit from the BBC series The Trip. The segment, featuring British comedians Steve Coogan and Rob Brydon in a faceoff over who could do the best Caine impression, went viral this fall.
"They were always arguing amongst themselves who did the better Michael Caine. And I saw it and thought these guys were so clever. They were brilliant, weren't they?" laughed Caine.
"I loved them and they are two very good actors and I've met them both before. Someone said to me, 'Go on Google,' and it said 1 million people had looked at it.  And I thought it was a wonderful compliment that they wanted to do me."
Only the best!