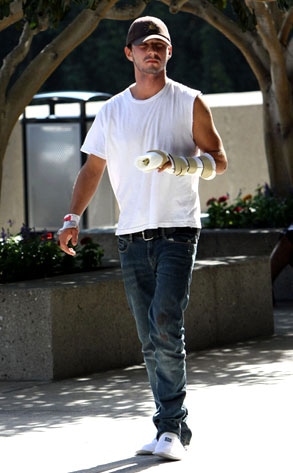 INFphoto.com
Forget what you may have read—Shia LaBeouf is not facing any major transformation.
The actor, who sustained a seriously mangled mitt in a rollover accident, is not in danger of losing any of his digits, E! News has confirmed.
LaBeouf's rep is shooting down a Star magazine report claiming the 22-year-old actor informed his Transformers producers that he needed to have his pinky finger amputated.
It's a "completely fabricated story," LaBeouf publicist Melissa Kates tells E! News.
The Indiana Jones star's hand was injured when his Ford pickup flipped in a late-night accident last month. "Shia's left hand was crushed and will need regular medical supervision until his doctors clear him to return to work," LaBeouf's attorney, Michael Norris, said at the time.
LaBeouf has been spotted sporting a cast over his damaged wing...pinky and all.
(Originally published Aug. 6, 2008 at 5:25 p.m. PT)