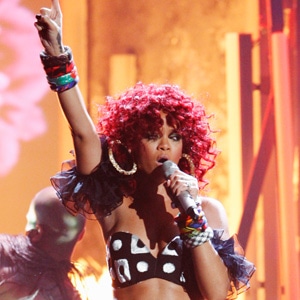 ABC/RICK ROWELL
No doubt Rihanna is one of the performers we're most looking forward to seeing at the Grammys.
But will she even be able to make it to the big show?
Unfortunately, we just got word that...
Rihanna is said to be fighting a pretty bad flu.
She was supposed to perform five songs at tonight's Unforgettable Evening gala benefitting EIF's Women's Cancer Research Fund. But organizers were told just a couple of hours ago she was too sick to make it.
Yikes!
Fortunately, hitmaker Cee Lo was available and able to fill in for Ri-Ri. Hosted by Conan O'Brien, the event will honor Annette Bening as well as Martin Short's late wife, Nancy.
Rihanna's tells me, "Rihanna is so disappointed. She was excited about tonight, but has the flu and couldn't perform."
Here's hoping she's feeling better by Sunday!