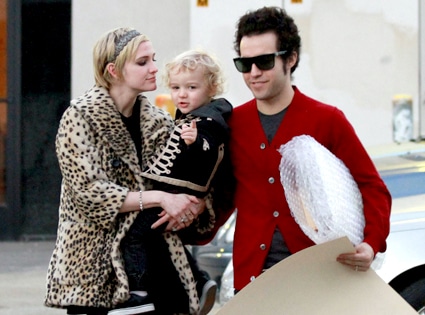 BAUER-GRIFFIN.COM
Some celebrity splits you see coming from a mile away. Others pretty much take everyone by surprise.
The combustion of Ashlee Simpson-Wentz and Pete Wentz falls into the latter category.
After nearly three years of marriage (and one adorable toddler), Ashlee filed for divorce from her Fall Out Boy hubby in Los Angeles Superior Court yesterday.
So what the heck happened?
Well, it certainly appears to be amicable.
"After careful consideration, we have made the difficult decision to file for divorce," the couple said in a joint statement. "We remain friends and deeply committed and loving parents to our son Bronx, whose happiness and well-being remains our number one priority. We ask that everyone honor our privacy as we navigate this next phase of our lives."
Simpson cited the ever popular irreconcilable differences in the paperwork, and while their date of separation was listed as "to be determined," the couple certainly hasn't shown any signs of a rift (though we can now chalk Ash's ever-shortening 'do up to a breakup haircut).
(Originally published Feb. 9, 2011, at 9:43 a.m. PT)
Late last week, the couple was spotted walking arm-in-arm around West Hollywood with their son and even more recently, Pete was singing his wife's praises to paparazzi, even teasing big plans for Valentine's Day. Over the weekend the duo was separated, as Wentz hosted a Super Bowl party solo, but Ashlee was apparently back on his mind at the start of the week.
"Dont forget 2 notice-when i look into the lil dudes eyes & smile, the way he loves," he tweeted Monday. "I realize @ashsimpsonwentz is a good moma + so much more."
Simpson, too, seemed smitten as recently as last month, tweeting, "@petewentz I already miss your handsome face!"
Which means if things went downhill, they must've gone downhill fast.
As for the particulars, the 26-year-old mama is also asking for the judge to award joint legal custody of their 2-year-old son Bronx, but is requesting sole physical custody of the boy, with child visitation to be given to Pete.
Ashlee is seeking spousal support from Wentz and is asking the judge to restore her name to Ashlee Simpson.
The couple wed on May 16, 2008 after two years of dating. They have no prenup.
—Additional reporting by Claudia Rosenbaum