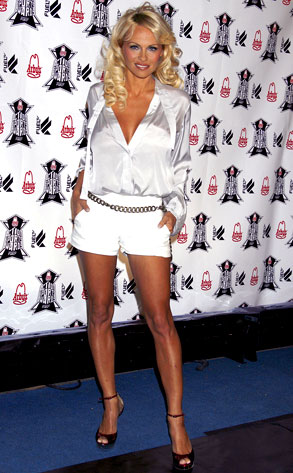 Jeffrey Mayer/WireImage.com
Pamela Anderson had a somewhat ruff time filming Superhero Movie.
The blond bombshell apparently wasn't too pleased when she found out that she had a scene with a dog in the flick.
I'm told she refused to act opposite the canine, because PETA doesn't support using real animals in moviemaking. "Pam left the set and went for a walk," a source reports. "She needed a time out. She was that upset."
In the scene, Anderson's Invisible Girl superhero character calls for her Invisible Dog. The four-legged friend becomes visible just as it jumps into her arms.
Director Craig Mazin got around the hiccup by splicing together some shots of Anderson and some of a running dog that were filmed when Anderson wasn't around.
But in the end, it was all for nothing!
Why? Because of a joke that Anderson's character makes that suggests her invisible dog—and not her!—has been sexually satisfying the superhero professor (Tracy Morgan) she had been sleeping with.
The scene ended up on the cutting room floor because the Motion Picture Association of America's Ratings Board disapproved of the bestiality crack.