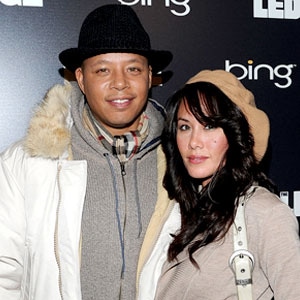 Michael Buckner/Getty Images for Bin
This isn't the kind of paper one wants to receive for a first anniversary.
Terrence Howard's wife Michelle has filed for divorce after a year of marriage, citing the ever-mysterious "irreconcilable differences" as the reason, according to court documents.
But wait, weren't they just snuggling up at Sundance together?
The couple were indeed photographed less than two weeks ago at the Sundance Film Festival in Park City, Utah, but apparently they weren't as snuggly as their cozy winter attire would suggest.
Michelle lists their date of separation as Jan. 27, the same day she filed the paperwork. Maybe she just couldn't deal with his film, The Ledge, going home without a prize?
This was Howard's third marriage, but only his second wife, as he married Lori McCommas, the mother of his three children, twice.
Howard and McCommas first divorced in 2003, two years after he was arrested on suspicion of assaulting her. The Law & Order: Los Angeles star ultimately pleaded guilty to disorderly conduct. They remarried in 2005 and were separated again by 2009.
Terrence and Michelle tied the knot Jan. 20, 2010 and the festival-hopping duo made their newlywed debut a few months later at Cannes.