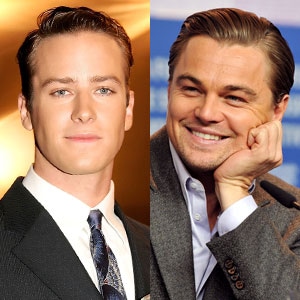 Tony R Phipps/WireImage; Dominique Charriau/WireImage.com
We chatted up the delicious, totally adorable Armie Hammer last night at the SAG Awards, and he was in fabulous spirits despite The Kings Speech edging out Social Network for best flick.
If you haven't heard already, his next project has him smooching Leonardo DiCaprio onscreen as Clyde Tolson, with Leo playing J. Edgar Hoover in Clint Eastwood's J. Edgar biopic.
And this guy is ready to get down to, um, business in those love scenes with Leo...
"It's not a kissing scene—it's a ton of kissing scenes," Armie, all smiles, told us last night.
"I'm so excited to work with Clint, and from what I hear, he's not the type of director who has a ton of rehearsals and takes. I think we're just sort of thrown in there and have to make it happen."
Duh, that's why Clint is so freaking fab! So have Armie and Leo discussed how they want to handle their guy-on-guy scenes?
"I actually just met [Leo] for the first time Saturday at the DGA Awards. Sure, we talked business," laughed Hammer. "He's a talented actor. I'm not nervous or afraid of it being awkward. The script is great. The scenes are in there for a reason. I'm really excited."
So guess they just gotta man up and pucker up!
"Yeah, you hear that, Leo? Pucker up!"
Ugh, the fact that A.H. is so secure makes him insanely hot, don't you think? It doesn't hurt that his hot wife was standing their with him, and she seems to be totally supportive. Too adorable!
Seriously, you all ask which celebs are good people? Well, we totally heart this guy. You've never met a friendlier or more genuine dude on a carpet!