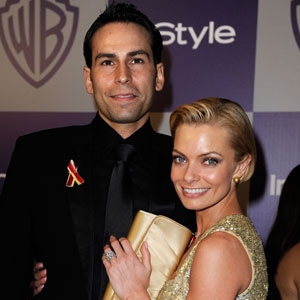 Kevork Djansezian/Getty Images
This just has not been Jaime Pressly's month.

The Emmy winner filed for divorce Friday from hubby Simran Singh after roughly 15 months of marriage, citing irreconcilable differences as the reason.
Their date of separation is listed as Dec. 27, according to the petition filed in Los Angeles Superior Court.
No word yet on what ailed their union, but as the lesser-known nursery rhyme goes, first comes love, then marriage, then a motley assortment of problems and then divorce.
The couple had no children together. Pressly has an almost 4-year-old son, Dezi James, from a previous relationship.
She's asking that the court not award Singh spousal support.
The designer and former My Name Is Earl star might be tempted to call 2011 a wash right about now.
News that her marriage was on the rocks arose after she was arrested on suspicion of DUI after, per legal sources, she blew a .22 (nearly three times the legal limit of .08) during a traffic stop. Then came the tax records showing the IRS has filed more than $500,000 in tax liens against her in the last year and the state of California is looking to collect $95,080.
Pressly is due in court to answer to the DUI charge on Feb. 7.